Making sense of Microsoft's messy collaboration strategy
Microsoft's Office 365 suite recently expanded with more apps for enterprise collaboration, but will the-more-the-merrier approach prevail, or is consolidation inevitable?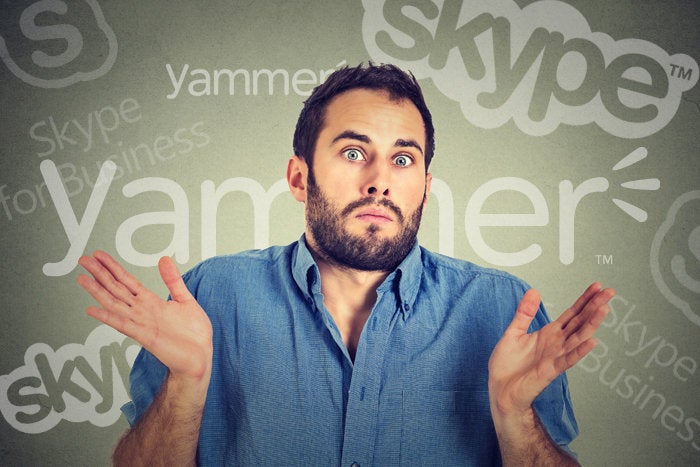 The enterprise collaboration market is increasingly crowded with apps and services that target distinct needs for messaging and communication. With its growing suite of apps that target the market from many different angles, Microsoft represents the challenge of modern collaboration.
Collaborative work-related activities increased significantly during the last five years, and apps such as Microsoft's Yammer, Skype for Business and the recently launched Teams are quickly becoming a bigger part of the way people work, according to Bryan Goode, Microsoft's general manager of Office 365. As the average age of today's worker trends younger and more employees work remotely, businesses flock to cloud-based collaboration tools, Goode says.
"That combination of growth and quantity with those different dynamics happening really forms our strategy, and it leads us to this perspective that there's no one-size-fits all," Goode says. "The way that we collaborate, the amount that collaboration has shifted and changed, has lead us to this world where customers are really looking for these purpose-filled apps that address specific collaboration scenarios. And we want Office 365 to include all those solutions and address all those needs."
For Microsoft, more is more
Microsoft is pursuing a "comprehensive" enterprise collaboration strategy, according to TJ Keitt, a senior analyst with Forrester Research. "Microsoft wants to keep as many collaborative activities as possible within Office 365," he says. "They believe there are benefits to the enterprise from working within the common platform Office 365 affords, particularly when it comes to the security foundation and the Office Graph tie-in that will simplify search and expertise location."
The Office 365 platform, which currently has more than 85 million monthly active users, is comprised of three pillars, according to Goode: "Groups," which create single identities for teams and remain consistent across all apps in the suite; Microsoft Graph, which provides businesses and developers with a unified API endpoint for accessing data in the Microsoft cloud; and suite-wide security compliance.
Microsoft doesn't want to enforce any hard and fast rules for the use of each of its collaboration apps. Instead, it wants to provide a foundation that organizations can build on as they see fit, according to Goode. "Yammer is the way that I kind of stay in touch with the pulse of the company inside Microsoft," he says. "Skype for Business is the way that I do my audio and video meetings and calls, and then I think about Teams as this place where a small group of folks can get together and get work done in a very high-velocity way."
Microsoft believes people will use its tools in the most appropriate ways based on their unique situations, according to Keitt. "There will probably be some difference between what Microsoft envisions as clear distinctions between these applications and the reality of how information workers will use some these tools and bypass others," he says.