Michael Kors Access review: A fashion-first approach to Android Wear
What can Michael Kors bring to the Dylan version of its Android Wear smartwatch? A lot of good intentions, and a not-so-svelte design.
If the Michael Kors Access has taught me anything, it's that Android Wear watches from fashion-first brands—like Michael Kors—can't spin Google's smartwatch story in an entirely different direction. I've been testing the Dylan version of the Access for the last two weeks, and while it's a perfectly good-looking watch, I can't say it offers dramatically better materials or design compared to the best Android Wear watches from tech-first manufacturers like LG, Huawei, and Motorola.
The Dylan version of the Access bears the familiar "MK" logo on the top of its crown, but that almost invisible flourish will always be a little secret between you and your watch. Beyond that, we can admire the Dylan's chunky lugs, chiseled bezel, and stark, monochrome palette. The design is effectively butch for anyone who needs that vibe from a watch, but unless you're already familiar with Michael Kors timepieces, no one will spot the Access on your wrist and ask, "Yo, brah, are you wearing Michael Kors?"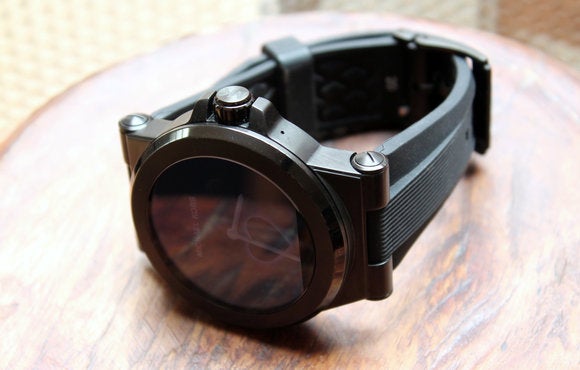 Chunky and architectural, the Dylan protrudes just about 12mm off of your wrist. And those aren't screw heads on the lugs. They're buttons, and you press them to pop out the strap pins.
Nonetheless, the Access version of Dylan looks very similar to the analog Dylan: more or less the same case and silicone strap, but with two fewer buttons, and, of course, a digital display for Android Wear. The Access also comes pre-loaded with various watch faces that preach the Michael Kors aesthetic a bit more loudly. So, if you just can't lower yourself to buy a smartwatch from a tech-first manufacturer, you can jump aboard the Michael Kors train, confident that one of the designer's watch faces will telegraph your brand affinities.
And the Access costs only $350 for the Dylan model I reviewed. That's a notable—but not egregious—pricing premium compared to Wear watches from the tech companies.
Big, bulky and brand-correct
The Dylan version of Michael Kors Access has a bulky 46mm case. It's big. There's also a 44.5mm Bradshaw version that's more gender-neutral. Both watches have stainless steel cases, but you can choose from a variety of finishes and straps. My review specimen came with a black case and silicone strap, but the Dylan is also sold with silver- and rose gold-colored cases and a leather strap.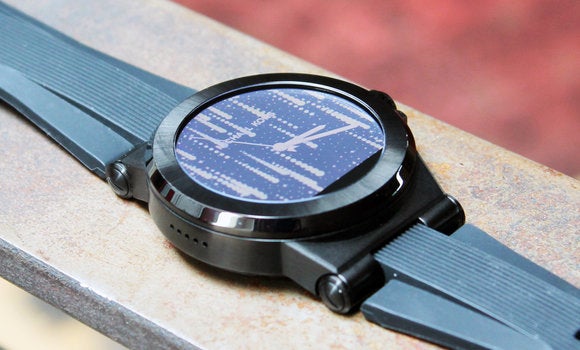 This still photo of the Falling Glitz watch face can't even begin to illustate the showy animation that plays in real life. This one definitely belongs on the rose gold Bradshaw version of the watch.