Michael Kors Access review: A fashion-first approach to Android Wear
What can Michael Kors bring to the Dylan version of its Android Wear smartwatch? A lot of good intentions, and a not-so-svelte design.
The Bradshaw has a much wider variety of case colors, and comes with either metal bracelets or leather straps. Prices vary across the line-up, and the most expensive version is a $395 Bradshaw model with a gold-tone case and matching pavé bracelet.
Do you want more than one strap? Michael Kors says the only "supported" options are Michael Kors silicone bands at $40 a pop, and leather bands at $50. For what it's worth, the lug width of the Dylan model is 28mm, but its strap pins measure 12.5mm.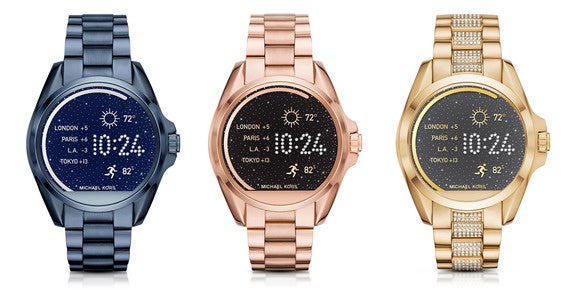 The Bradshaw version of the Michael Kors Access is slightly smaller at 44.5mm, and comes in many more looks. At the far right we see the gold-tone look with pavé bracelet—the most expensive model at $395.
But let's go back to that really big case. Because the Dylan is so thick (about 12mm), I actually found it difficult to fit inside the cuffs of some long-sleeved shirts. That's a first for me, and I've worn scads of analog watches, smartwatches and activity trackers.
The Michael Kors Access is also the heaviest wearable I've ever put on my wrist. Android Wear supports a few gestures that let you navigate its user interface with a flick of your wrist, and none of them are comfortable with a watch this heavy. Maybe if I had the wrists of Brock Lester I wouldn't mind, but with my tech-journo anatomy, I see repetitive stress disorder in my future.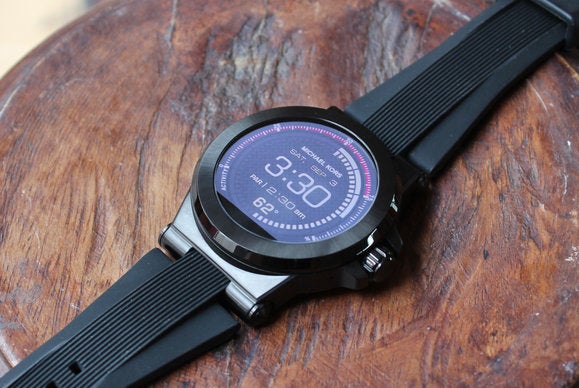 The Dylan's silicone strap is comfortable and grippy.
If you can get past the size and weight, you're left with a design that aligns just about right with the Dylan's $350 price tag. The black steel case looks almost glossy but held up very well when I whapped it repeatedly with the sharp edge of a metal ruler. I also like the silicon strap. Its grooved texturing helps give the watch a bit more visual ID, and I love all silicone straps for their form-fitting grippiness. Just be prepared to keep it clean, as those grooves are magnets for dirt and debris.
For my own watches, I pick much more traditional, classic designs. But if I styled my hair with a razor-fade pompadour or maybe listened to Pitbull, I could totally see myself wearing the Dylan Access.
Strong battery life and a sun-friendly display
OK, let's get into the guts. I won't rehash Android Wear software specifics, but I will share that the Michael Kors Access was running Android Wear 1.5, so it's definitely not a launch platform for the imminent Android Wear 2.0, which you can read about here. But there's still a surprise hiding inside the watch: Qualcomm's Snapdragon Wear 2100 processor.
Previous Page 1 2 3 4 5 Next Page