Michael Kors Access review: A fashion-first approach to Android Wear
What can Michael Kors bring to the Dylan version of its Android Wear smartwatch? A lot of good intentions, and a not-so-svelte design.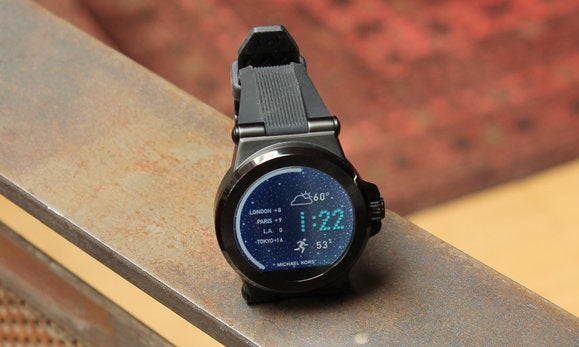 The Notes complication has a very subtle star scene animation, and reveals steps progress, the current weather and time zone differentials.
As the name suggests, this chip was designed expressly for next-generation Android Wear watches. Its 30 percent smaller than Qualcomm's previous-generation chip, and in theory allows for thinner case designs (though, clearly, Michael Kors didn't get the message). The Wear 2100 also has built-in Bluetooth and Wi-Fi support, and consumes 25 percent less power than Qualcomm's previous silicon. I never hammered the watch with excessive use, but I was happy with battery life, and finished all my days of testing with at least 30 percent battery capacity remaining.
Just like all other Android Wear watches, the Access comes with 4GB of storage for apps and music files. The watch is water-resistant to only 1 ATM, so it's definitely not as rugged as, say, the Nixon Mission, which is good for 10 ATM.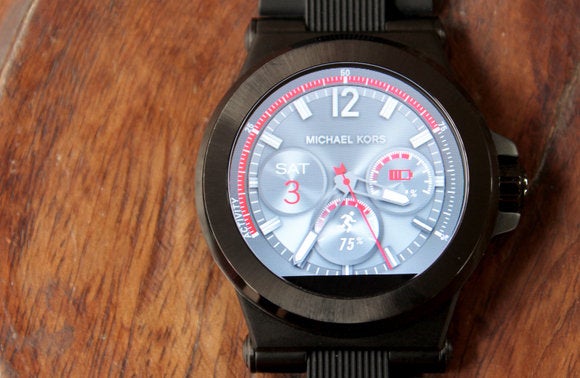 Note the "flat tire" of missing pixels at the bottom of the display.
In terms of raw components, the watch's 1.4-inch TFT LCD display may be the star of the show. With a resolution of 320x290, it has a "flat tire" of missing pixels at the bottom of the display. The touch display is also just a tad slow to respond to swipe gestures. These are negatives, for sure, but damn this watch is legible in sunlight.
For this we can thank transflective display tech. Colors are washed out under a bright sun, but, hey, you can easily read the screen, and that fixes a major pain point of first- and second-generation Wear watches.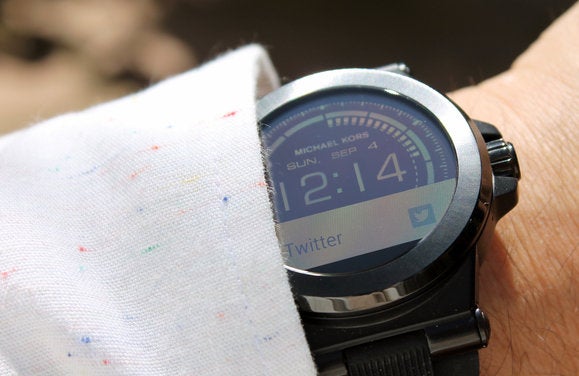 This image accurately illustrates how that transflective display appears on a bright, sunny day.
Customizable watch faces, heavy on glitz
You can only add so many design elements to a watch case before the hardware gets too loud and gaudy. It's the watch face that carries at least half of the visual ID, and this puts all digital-display smartwatches at a disadvantage. Lacking moving hands and dials, they can look like sci-fi movie props instead of sophisticated accessories.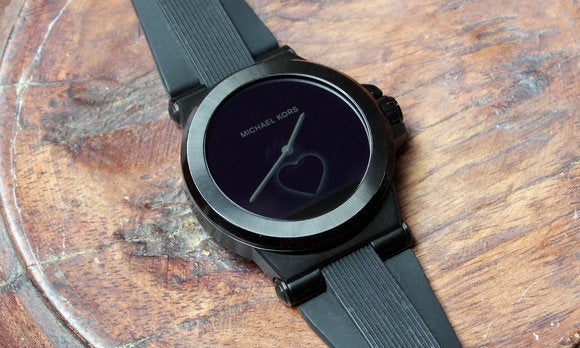 Here we see the demure ambient mode of the Heart watch face. The full-color mode is gold, animated splendor.
Michael Kors tries to shore up the deficit with a collection of branded watch faces that communicate the designer's somewhat cheesy Real Housewives aesthetic. The faces aimed at men look techy and mechanical. The ones aimed at women are heavy on costume glitz, with lots of gold accents and rendered pavé insets, and even brief animations. They're unapologetically trashy, but like NeNe Leakes, Michael Kors appears to be in on the joke.
Previous Page 1 2 3 4 5 Next Page