Microsoft kicks off preview of Office for Windows 10
Windows users finally get a chance to try out touch apps -- three-and-a-half years after Microsoft touted them.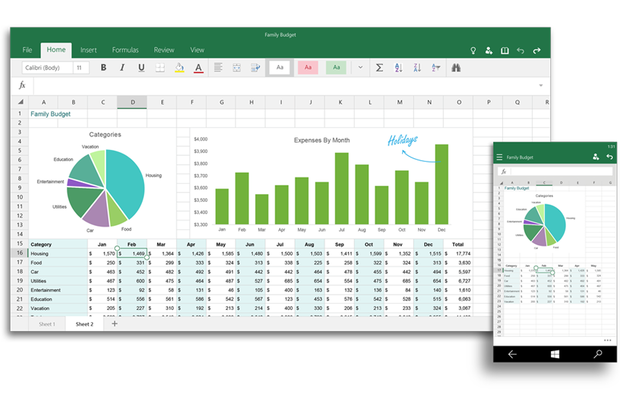 The touch-centric Excel for Windows 10. Credit: Microsoft
Microsoft today released previews of its touch-centric Excel, Word and PowerPoint apps for Windows 10, making good on the pledge two weeks ago to give customers an early look this month.
However, shortly after the launch, Microsoft noted that customers were having trouble "accessing and downloading" the apps. The company said it was working on a fix. As of 12:30 p.m. PT, Microsoft had not updated its blog with new information about availability.
The previews are available only on PCs and larger tablets running Windows 10 Technical Preview, the sneak peak Microsoft updated last month. Similar apps for Windows 10-powered smartphones and smaller tablets -- Microsoft puts the tablet cut-off between "small" and "large" at 8-in. -- will be offered "in the coming weeks."
Today's three-app preview is to be only the start of what Microsoft has dubbed "Office for Windows 10," which is to also include OneNote and Outlook. The latter will sport both email and calendar functionality. Microsoft recently released Outlook as a native app for both iOS and Android.
The apps are analogous to those for Excel, PowerPoint and Word that have been available on Apple's iPad since March 2014: designed for touchscreens with an abridged set of features compared to the keyboard- and mouse-operated desktop editions. Those previewed today aim at tablets 8-in. and larger, as well as notebooks -- and the few desktops -- equipped with a touch-sensitive display.
Office for Windows 10 will be pre-installed on new Windows 10-powered smartphones and tablets with screens smaller than 8-in. It will also be available for larger-screen devices from the Windows Store.
Wednesday's previews were stocked on the beta of the Windows Store for Windows 10.
Microsoft expects to wrap up work on the Office touch apps by the time it ships Windows 10, now scheduled in the vague "later this year" timeframe. The Redmond, Wash. company is also working on Office 2016, the next iteration of the more traditional desktop powerhouse and the successor to Office 2013. That, along with a similar suite for Apple's OS X, are also to launch in the back half of 2015.
Microsoft has said nothing of how it will price Office for Windows 10 -- on 8-in. and larger tablets, and on touch-enabled notebooks -- or the cost of Office 2016 for either Windows or OS X.
Unless the firm turns its Office business model upside down, it will limit the touch apps' features for consumers, who will be able to download and use them free of charge only for non-commercial purposes. Full functionality will be tied to an Office 365 consumer or corporate subscription, with the latter required for work-related legality.