Moto Z Play review: Long-lasting, affordable, and modular too
It may not be as fast as the other Moto Z phones, but the return of the headphone jack and super battery life make up for it.
A smooth experience
With a Snapdragon 625, the Moto Z Play isn't going to win any benchmark charts. Even among other mid-priced phones; the OnePlus 3 manages to slap a Snapdragon 820 into a $400 phone. But Motorola's version of Android is smooth and highly optimized. It looks nearly identical to stock Android 6.0.1, with a few extras added on. It's the same stuff Motorola has added to its phones for the last year or so: Moto Voice (extensions to the usual suite of Google voice commands which work with the phone asleep), Moto Actions (gestures to launch specific functions, like a double-chop to turn on the flashlight), and Moto Display (time and notifications on the lock screen, that display when you wave your hand over it or when a new notification comes in).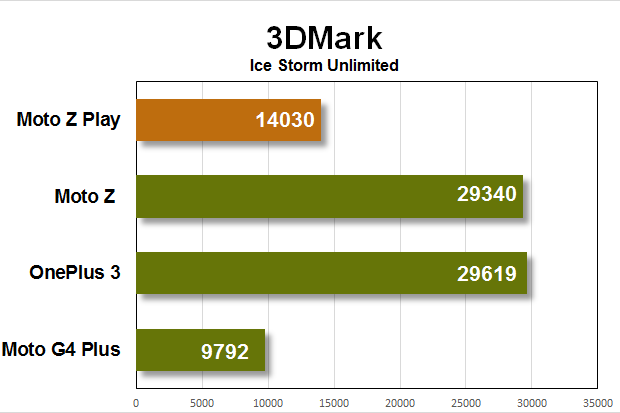 Particularly in 3D graphics, the Moto Z Play falls behind its competitors with top-end processors.
It's a good software experience, and one I'd love to see more Android makers emulate. Rather than make Android look and feel entirely different (I'm looking at you, Samsung), Motorola stuck with the general design, layout, look, and feel of standard Android and simply extended it with smart, useful features. Perhaps more importantly, it's all very fast and fluid. The mid-range Snapdragon 625 has no trouble keeping the interface quick and responsive. Unless you play a lot of high-end 3D games or do lots of photo or video editing on your phone, you're unlikely to run into a scenario where the Moto Z Play feels slower than most phones with high-end processors.
Crazy good battery life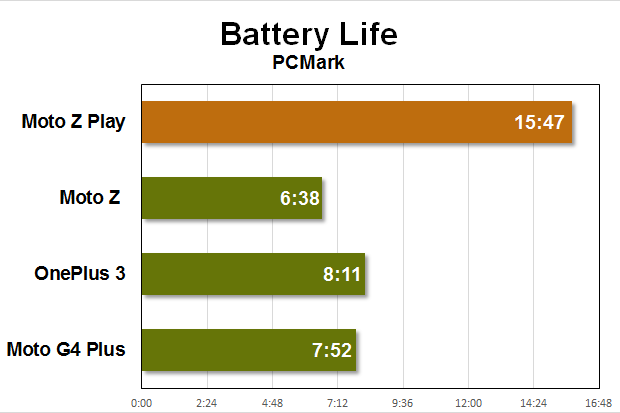 One chart says it all. If only all those $700 phones had battery life this good.
The Moto Z Play has a 3510 mAh battery—about the same as that in the Moto Z Force. That's big by any measure. And with a less power-hungry SoC and a 1080p display, this phone places fewer demands on it than do those high-end phones.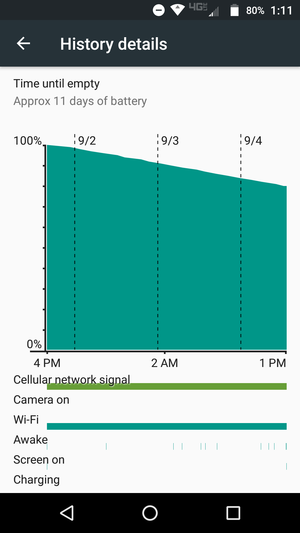 Nearly 3 days on standby and the battery has only dropped 20%.
The result is truly epic battery life. With the display calibrated to 200 cd/m², this phone lasted 15 hours 47 minutes in the PCMark battery test. That's nearly twice as long as the OnePlus 3 or Galaxy S7 edge! It's not just in benchmarks, either. I used the phone for two days, on and off, without charging it. I left it sitting idle for nearly 3 days and the battery only dropped from 100% to 80%. A big battery, efficient display and processor, and Motorola's highly optimized software all combine to give you a phone with some of the best battery life I've ever seen.
Previous Page 1 2 3 4 Next Page