Nvidia GeForce GTX 1050 and GTX 1050 Ti review: The new budget gaming champions
Two worthy successors to the legendary GTX 750 Ti.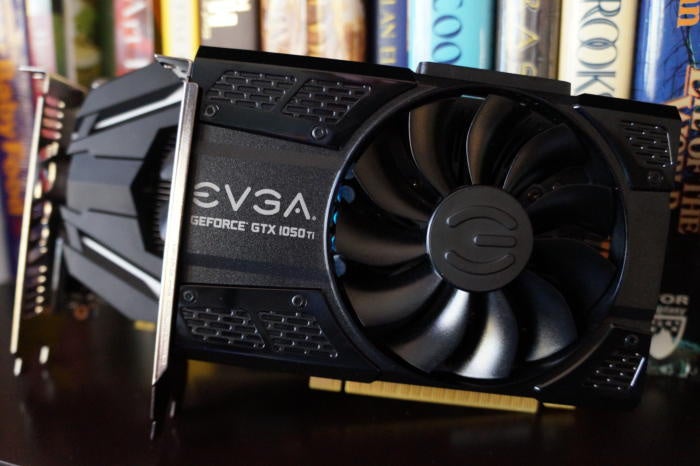 After months of focusing on the high end, Nvidia's GeForce GTX 10-series is finally trickling down to the masses. The $109 GeForce GTX 1050 and its bigger brother, the $139 GeForce GTX 1050 Ti, are a pair of affordable new graphics cards designed to ease introductions into PC gaming.
At those prices, it's clear that Nvidia's aiming directly at the Radeon RX 460's jugular—prompting AMD to launch preemptive price cuts. But the GTX 1050 and GTX 1050 Ti are more than fresh foot soldiers in the never-ending war between AMD and Nvidia. While the older GTX 950 required the use of an extra six-pin power connector for most of its life, the GTX 1050 and GTX 1050 Ti assume the mantle of the popular GTX 750 Ti by sipping a mere 75 watts of power, allowing them to draw all needed energy via your motherboard alone. That means you can slap Nvidia's new cards into a prebuilt "big box" PC from the likes of HP and Dell to transform them into full-fledged gaming machines with minimal hassle—a trick that 2GB variants of the Radeon RX 460 can also perform.
Can Nvidia's GeForce GTX 1050 and GTX 1050 Ti dethrone their Radeon rival, much less live up to the GTX 750 Ti's immense legacy? Let's dig in.
Meet the GeForce GTX 1050 and GTX 1050 Ti
To add to the intrigue, the GTX 1050 family isn't built on the same underlying technology as the rest of Nvidia's GTX 10-series. Taiwan Semiconductor Manufacturing Company (TSMC) fabricates the GTX 1080, GTX 1070, and GTX 1060 using the 16nm manufacturing process and Nvidia's "Pascal" GPU architecture, but the GTX 1050's brand-new "GP107" graphics processor is built using the 14nm process at an undisclosed manufacturer (likely Samsung).
The benchmarks will reveal whether that makes a difference in performance. At first blush, the GTX 1050 and GTX 1050 Ti hit far lower overall clock speeds than the rest of the GTX 10-series, all of which boast at least 1,500MHz base clocks and boost clocks hovering around 1,700MHz or higher. By contrast, neither GTX 1050 card achieves 1,500MHz even when boosting, though Nvidia says it was able to "hit speeds in excess of 1,900MHz with ease" when overclocking the cards internally.
Check out the $110 GTX 1050 and $140 GTX 1050 Ti's full specs below.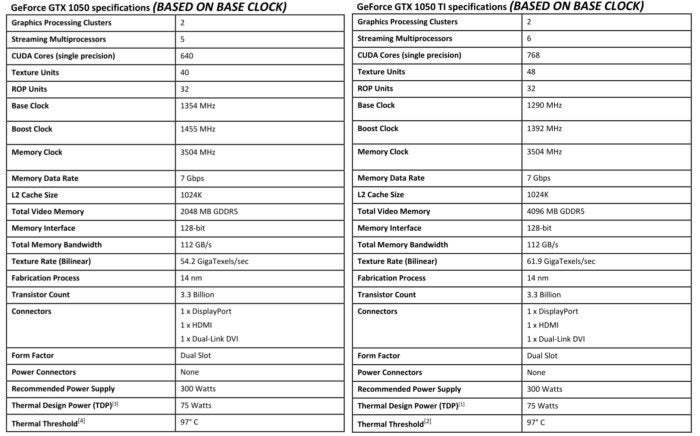 The Nvidia GeForce GTX 1050 and GTX 1050 Ti's full technical specifications. (Click on any image in this article to enlarge it.)
AMD's $110 Radeon RX 460 and $140 RX 460 differ only in memory capacity—at their heart, the "Polaris" GPU in both versions are the same. Nvidia also uses 2GB (GTX 1050) and 4GB (GTX 1050 Ti) memory capacities to differentiate between its two cards, but each offers different performance levels as well. The pricier GTX 1050 Ti packs the full-fat version of the GP107 GPU, with 768 CUDA cores and 48 texture units across its six Pascal streaming multiprocessors. The cheaper GTX 1050 features a higher clock speed, but shaves off a streaming multiprocessor, resulting in 640 CUDA cores and 40 texture units—exactly half the internal hardware of the $250 GTX 1060.