Nvidia GeForce GTX 1050 and GTX 1050 Ti review: The new budget gaming champions
Two worthy successors to the legendary GTX 750 Ti.
Both cards offer 7Gbps memory speeds over a 128-bit bus, buoyed by Nvidia's superb bandwidth-saving delta color memory compression.
But more importantly, both cards draw under 75W of power, allowing them to slip seamlessly into many prebuilt boxed PCs. The 2GB Radeon RX 460 can too, of course, though the majority released at launch bolstered performance by requiring an additional six-pin power connect, negating that upgradability advantage. Card makers will be able to add six-pin power connectors to customized GTX 1050 and 1050 Ti variants, as well, but both of the cards tested today draw their full power from a motherboard. Adding a discrete GPU to a prebuilt PC provides a massive boost in gaming performance, as illustrated in the Nvidia-supplied graphic below.
The GTX 1050 and GTX 1050 Ti offer all the same features as Nvidia's other "Pascal"-based GTX 10-series cards, including goodies such as HDR support, Ansel super screenshots, Fast Sync, simultaneous multi-projection, performance-boosting multi-resolution shading, and more (again, all of which we covered in detail in PCWorld's GeForce GTX 1080 review). The default port configuration consists of one DisplayPort 1.4, one HDMI 2.0, and one DVI-D connector, but as with the GTX 1060, the GTX 1050 family doesn't support multi-GPU SLI configurations.
Nvidia isn't releasing a Founders Edition version of the GTX 1050 or GTX 1050 Ti, and a wide variety of custom boards from a wide variety of graphics card makers will be available when the lineup launches Tuesday. We tested two no-frills, single-fan graphics cards.
The MSI GTX 1050 OC with 2GB of RAM adds a roughly 50MHz overclock (to 1,404MHz base/1,518MHz boost) without any extra cost. It will be priced at $110 when it launches at some point before November 8.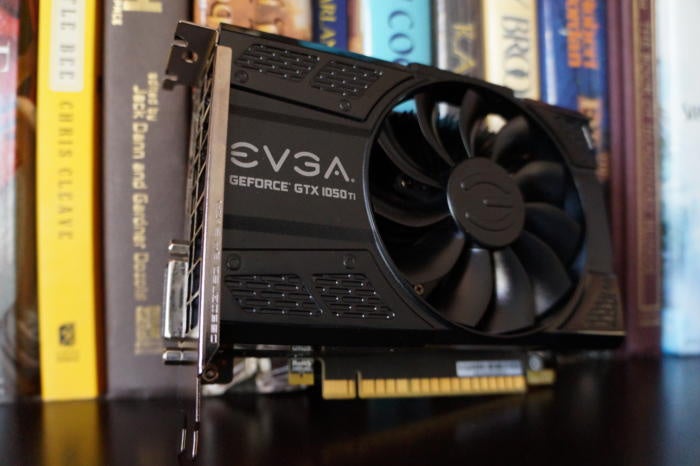 The $140 EVGA GTX 1050 Ti SC Gaming.
The EVGA GTX 1050 Ti SC Gaming ($150 on Newegg) with 4GB of memory ups things a bit further over the stock GTX 1050 Ti, to 1,354MHz base/1,468MHz boost, with the help of EVGA's ACX 2.0 cooling technology.
Nvidia says the GTX 1050 lineup is capable of playing modern games at 60-plus frames per second at 1080p resolution, at either Medium or High graphics settings. Is it true? Onto the fun stuff!
Our test system
We tested the MSI GTX 1050 OC and EVGA GTX 1050 SC Gaming on PCWorld's dedicated graphics card benchmark system. Our testbed's loaded with high-end components to avoid bottlenecks in other parts of the system and show unfettered graphics performance. Key highlights:
Previous Page 1 2 3 4 5 6 7 8 Next Page