Nvidia GeForce GTX 1050 and GTX 1050 Ti review: The new budget gaming champions
Two worthy successors to the legendary GTX 750 Ti.
We're comparing the $110 MSI GTX 1050 OC and $140 EVGA GTX 1050 Ti against Sapphire's $140 4GB Radeon RX 460, XFX's $220 Radeon RX 470 Black Edition, and the GTX 1050's predecessors, the EVGA GTX 750 Ti and EVGA GTX 950 SSC. (Remember, however, that the GTX 950 wasn't considered a direct GTX 750 successor like the GTX 1050 is, and demands a six-pin power connector—as does the 4GB RX 460). All of these cards are custom-cooled, overclocked models.
We benchmark every game using the default graphics settings unless otherwise noted, with all vendor-specific special features—such as Nvidia's GameWorks effects, AMD's TressFX, and FreeSync/G-Sync—as well as VSync and frame rate caps disabled. Based on the target performance of the GTX 1050 and GTX 1050 Ti, we're looking at 1080p results alone today, including Medium fidelity.
Test 1: The Division
The Division, a gorgeous third-person shooter/RPG that mixes elements of Destiny and Gears of War, kicks things off with Ubisoft's new Snowdrop engine.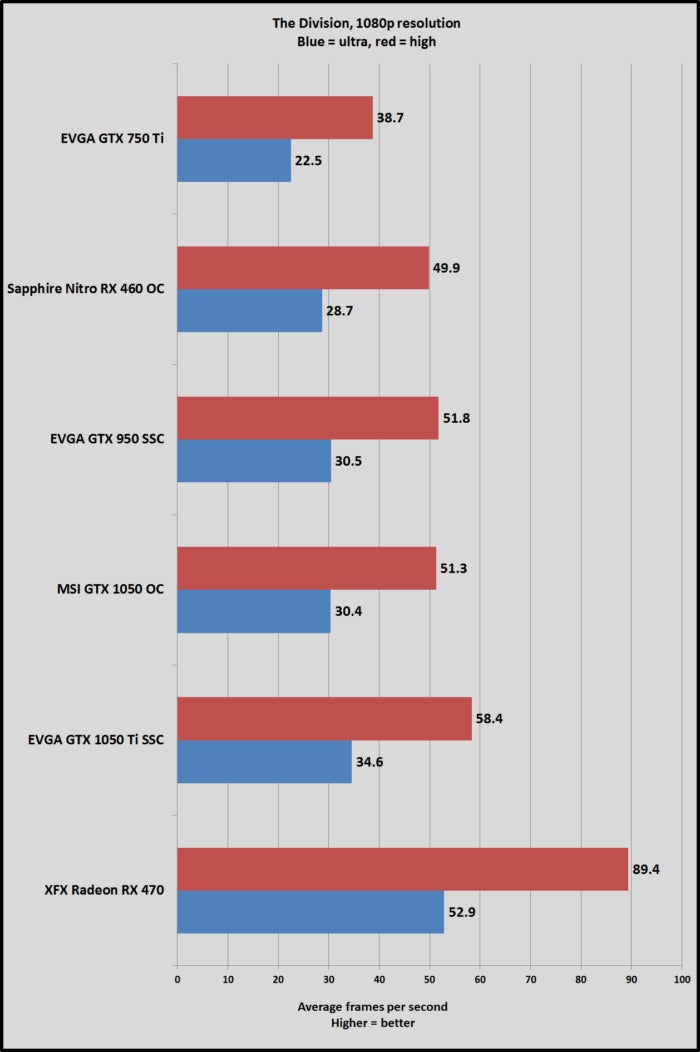 The GTX 1050 comes out slightly ahead of the RX 460 here, while the extra horsepower inside the GTX 1050 Ti widens the gulf. Both of Nvidia's new cards clear a console-matching 30 frames per second at Ultra graphics settings, while the GTX 1050 Ti indeed flirts with 60 fps if you drop the eye candy down to Medium. The $110 GTX 1050 also essentially ties the older GTX 950 in the closest matchup between the two very evenly matched cards.
Also note how much of a whupping the GTX 1050 family puts on the older GTX 750 Ti, and how much of a leap in performance stepping up to a $180 to $200 Radeon RX 470 offers. You'll see similar results in every game tested.
Test 2: Hitman
Hitman's Glacier engine heavily favors AMD hardware. It's no surprise; Hitman's a flagship AMD Gaming Evolved title, complete with a DirectX 12 mode that was patched in after the game's launch.
Important note: Hitman automatically caps the game's Shadow Maps and Shadow Resolution to medium, and Texture Quality to low, on cards with less than 4GB of onboard memory. Because our sampling represents a mix of 2GB and 4GB cards, we tested at Medium settings with Texture Quality set to low in both DX11 and DX12. The 4GB cards tested here could boost image quality across the board in this game.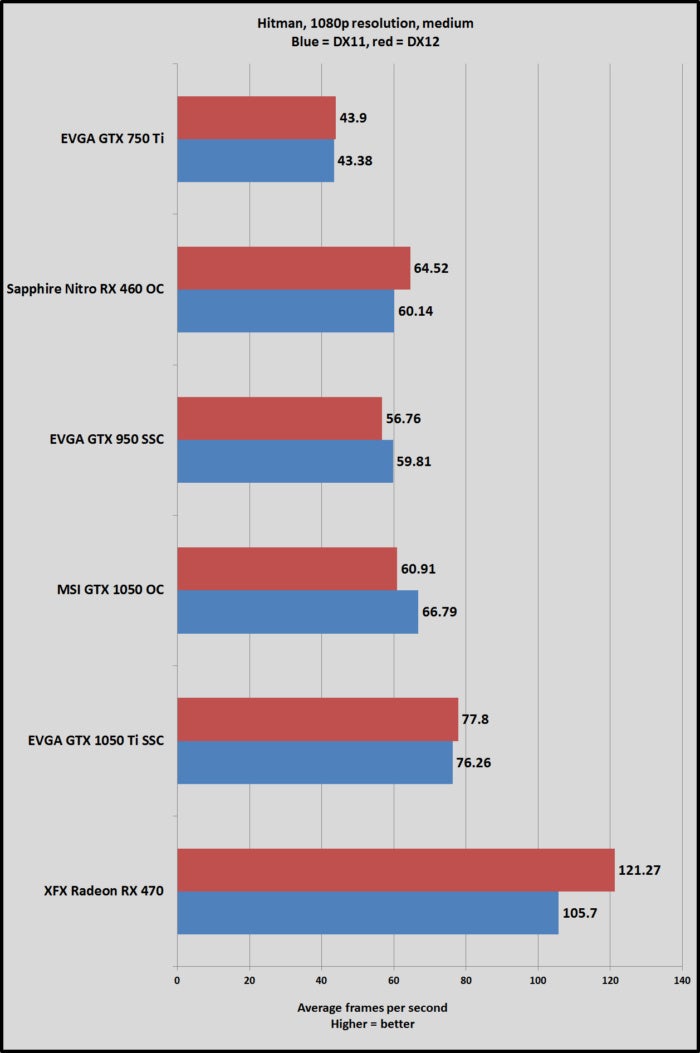 The 2GB GTX 1050 sees performance dip in DirectX 12, but that's common in 2GB cards. Comparing the Radeon RX 460 and GTX 1050's best results (DX12 and DX11, respectively) shows Nvidia's card holding a slight performance advantage. Once again, Nvidia's new budget card barely beats out the last-gen GTX 950.
Previous Page 1 2 3 4 5 6 7 8 Next Page