Nvidia GeForce GTX 1050 and GTX 1050 Ti review: The new budget gaming champions
Two worthy successors to the legendary GTX 750 Ti.
The $140 EVGA GTX 1050 Ti holds a commanding lead over the 4GB Sapphire Nitro RX 460 OC, even though it costs the same and Hitman is an AMD Gaming Evolved title. This isn't shaping up well for the 4GB Radeon RX 460 at all.
Test 3: Rise of the Tomb Raider
Whereas Hitman adores Radeon GPUs, Rise of the Tomb Raider performs much better on GeForce cards. It's also the single most drop-dead gorgeous PC game I've ever laid my eyes on. We only test the game's DirectX 11 mode.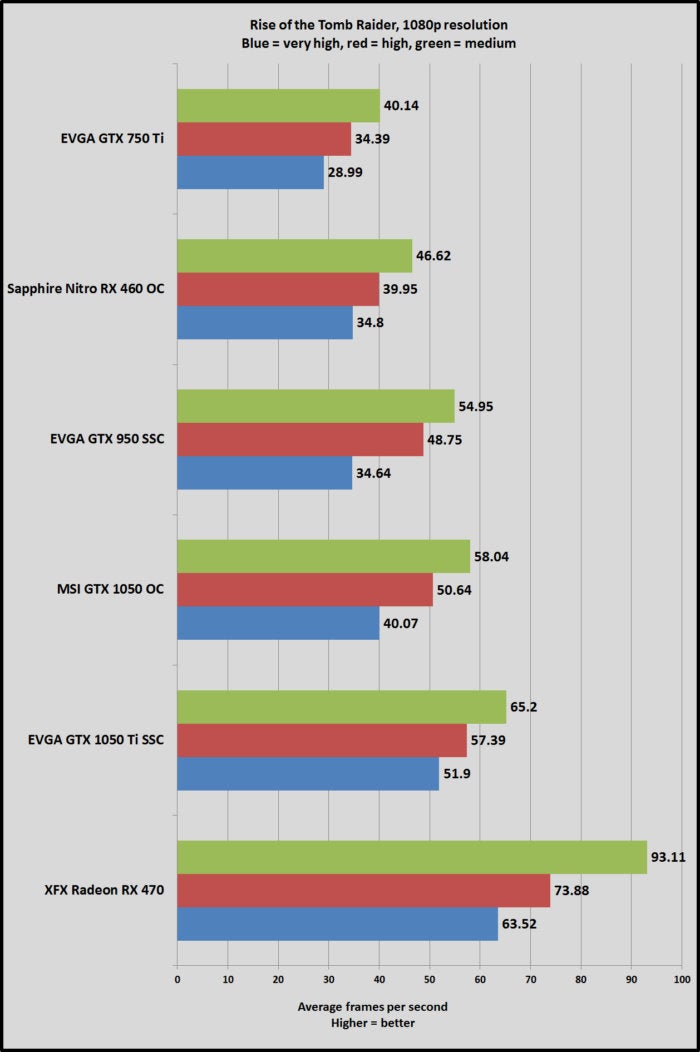 While the GTX 1050 cards were able to overcome Hitman's Radeon focus to deliver a win over the RX 460, Team Red failed to pull off a similar upset in this GeForce-centric game. The GTX 1050 pummels the 4GB RX 460, and the GTX 1050 Ti outright embarrasses it by about 20 frames per second, even though the Sapphire card packed an extra six-pin power connection. Nvidia's new cards also thoroughly outpace the older GTX 750 Ti.
Test 4: Far Cry Primal
Far Cry Primal is yet another Ubisoft game, but it's powered by a different engine than The Division—the latest version of the long-running and well-respected Dunia engine.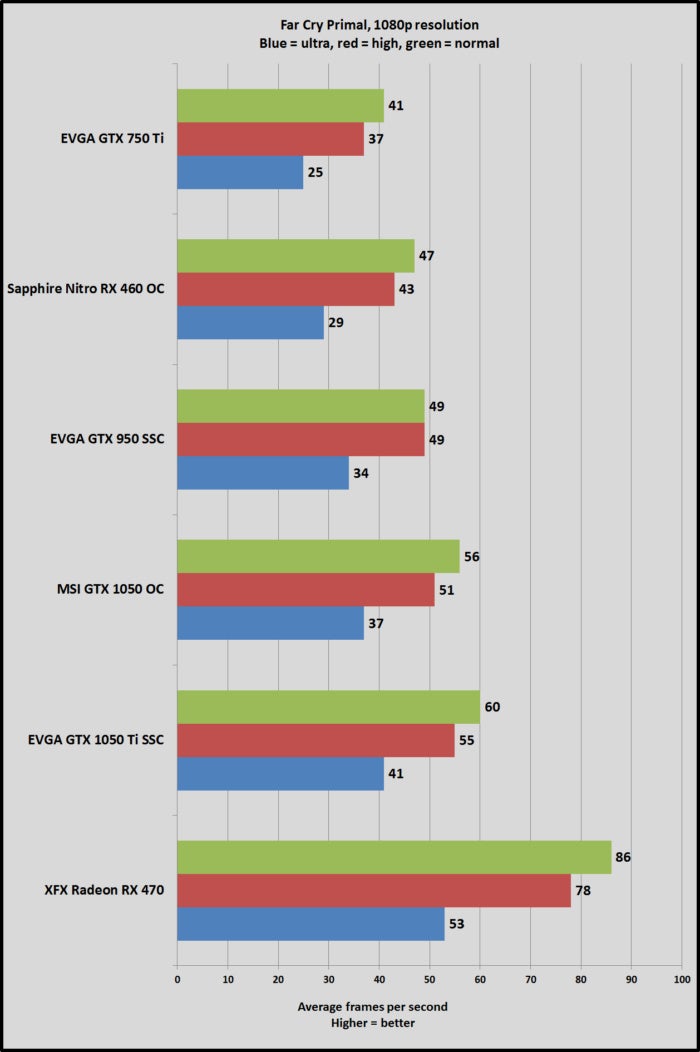 The gap shrinks a bit here, but Nvidia's GTX 1050 and GTX 1050 Ti nonetheless maintain a brisk advantage over AMD's high-end Radeon RX 460 offering. Perhaps more noteworthy, the $110 GTX 1050 and $140 GTX 1050 Ti draw troublingly close in performance, with a mere 4 fps between them.
Test 5: Ashes of the Singularity
Ashes of the Singularity, running on Oxide's custom Nitrous engine, was an early standard-bearer for DirectX 12, and many months later it's still the premier game for seeing what next-gen graphics technologies have to offer. (It's a fun real-time strategy game, too!) The performance gains it offers with DX12 over DX11 are eye-opening on Radeon cards—at least more potent ones.
That advantage is mostly nullified at this budget-friendly price point. Once again, even the $110 GTX 1050 trounces the $140 Radeon RX 460 4GB in sheer performance, while the similarly priced EVGA GTX 1050 Ti leads by roughly 10 fps—a relative chasm when we're talking about overall frame rates in the 30fps to 40fps range. Once again, Nvidia's new card embarrasses the Radeon RX 460 even in a game that leans heavily towards AMD cards.
All of the entry-level graphics cards struggle to clear 40 frames per second, much less 60fps. Fortunately, that matters less in slower-paced RTS games like this.
Previous Page 1 2 3 4 5 6 7 8 Next Page