Nvidia GeForce GTX 1050 and GTX 1050 Ti review: The new budget gaming champions
Two worthy successors to the legendary GTX 750 Ti.
Test 6: Gears of War 4
As the newest entry to our testing suite, the DirectX 12-exclusive Gears of War 4 scales superbly across all types of hardware. Its DX12 implementation is more vendor-agnostic than Hitman and Ashes of the Singularity's, both of which heavily favor AMD.
We test Gears 4 with asynchronous compute enabled on supported graphics boards (GTX 10-series, all modern Radeon cards), but with Tiled Resources disabled. Tiled Resources automatically adjust texture quality on the fly to ensure the game doesn't use more memory than is available onboard your graphics card; it's stellar technology when you're actually playing the game, but introduces unwanted, uncontrollable variance during benchmarking.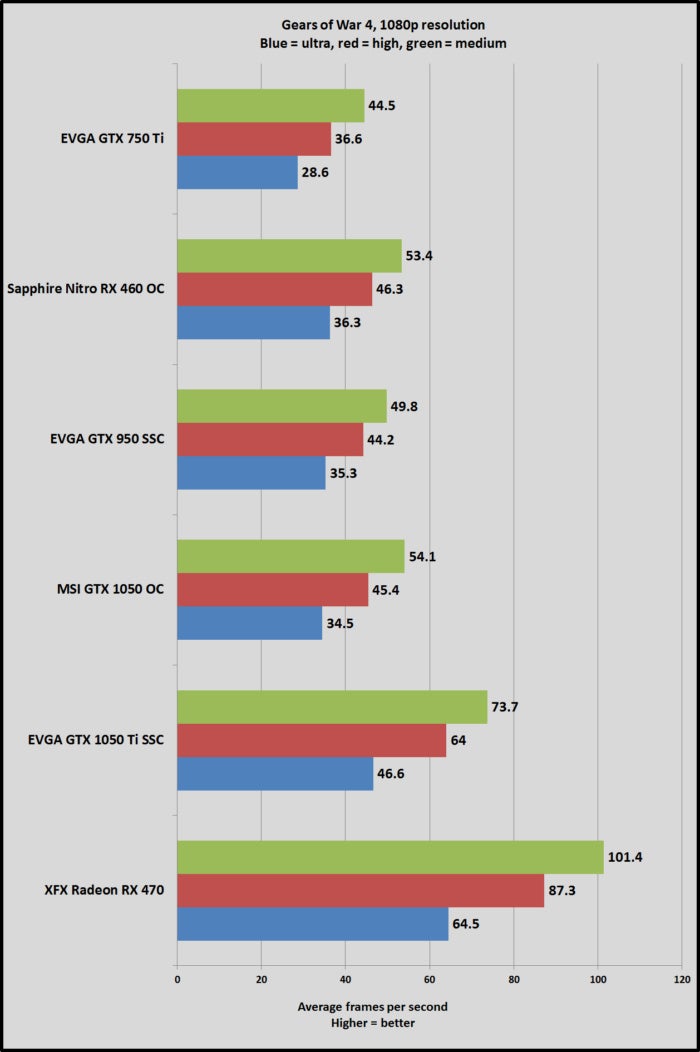 The game uses more than 2GB of memory at High and Ultra settings, which partially explains why the 2GB GTX 1050 underperforms the 4GB Radeon RX 460 in every test except at Medium graphics, where that advantage is eliminated. (Exceeding card memory causes the game to tap into slower system memory, though the frame rate plunges when Gears does so aren't onerous.)
Once again, the EVGA GTX 1050 Ti reigns supreme among these budget-price cards; the XFX Radeon RX 470 provides a big jump in performance, but costs 46.5 percent more.
Test 7: Synthetic benchmarks
We also tested the GeForce cards and their rivals using 3DMark's highly respected DX11 Fire Strike synthetic benchmark, which runs at 1080p, as well as its brand-new Time Spy benchmark, which tests DirectX 12 performance at 2560x1440 resolution.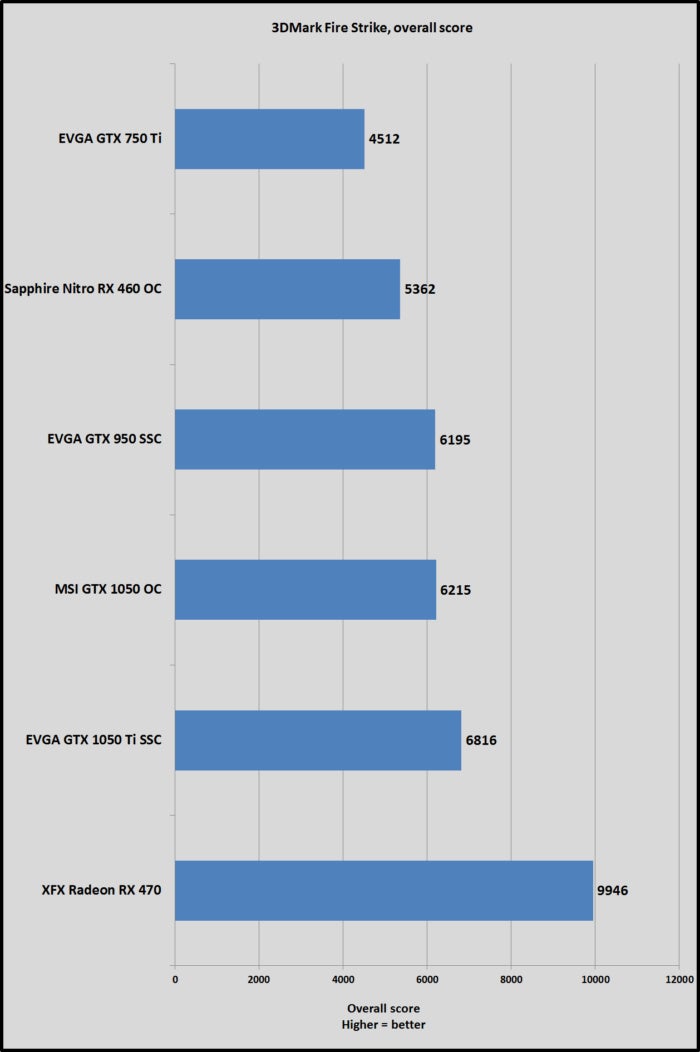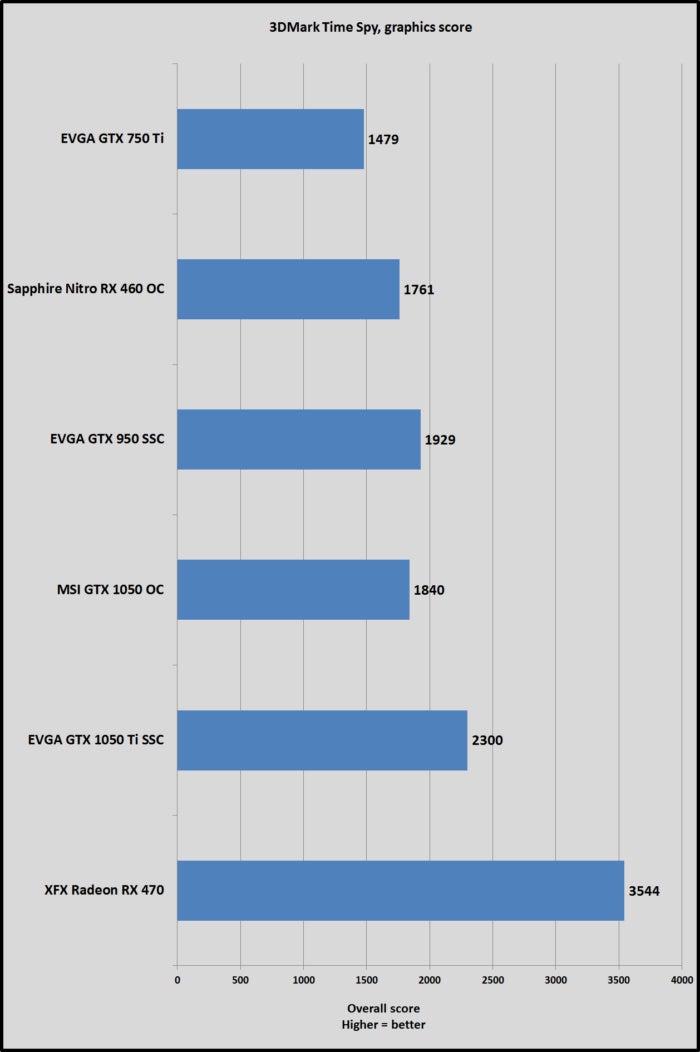 Everything falls about where you'd expect based on prior performance results.
Test 8: Power
We test power under load by plugging the entire system into a Watts Up meter, running the intensive Division benchmark at 4K resolution, and noting the peak power draw. Idle power is measured after sitting on the Windows desktop for three minutes with no extra programs or processes running.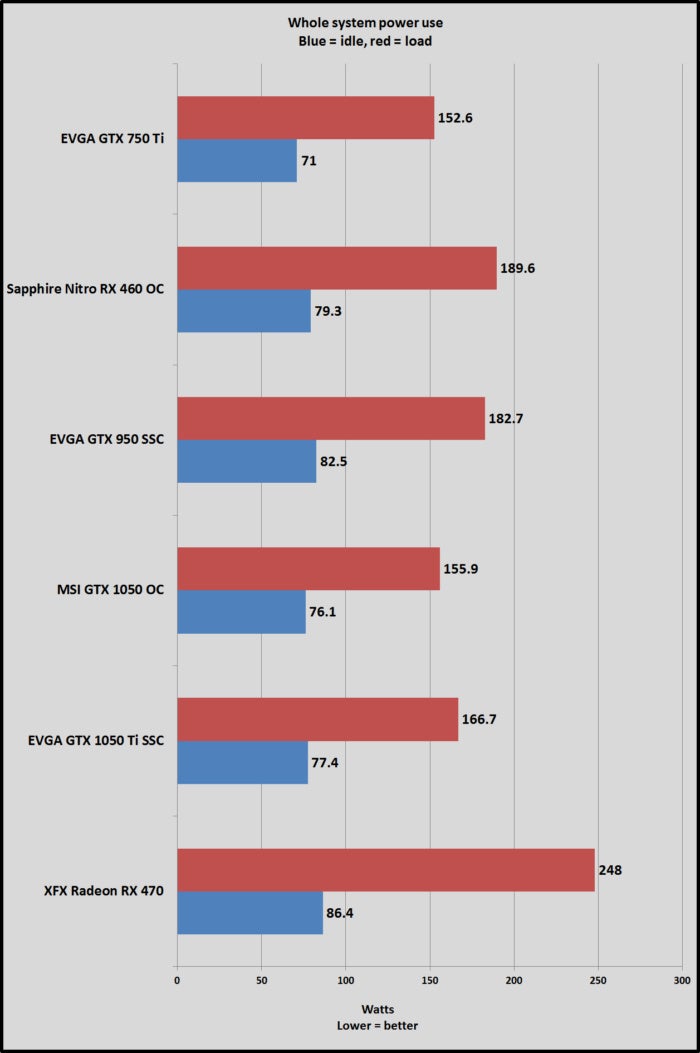 The GTX 1050 proves just as power-efficient as its legendary predecessor despite its big performance leap, while even the GTX 1050 Ti and its huge performance advantage sips nearly 20 watts less than the Sapphire Nitro RX 460 OC. That's not entirely surprising considering the latter requires a supplemental six-pin power connector... but it illustrates that Nvidia still holds a commanding power-efficiency lead over AMD's Polaris GPUs, even using a new 14nm process for this particular chip.
Test 9: Heat
We test heat during the same intensive Division benchmark, by running SpeedFan in the background and noting the maximum GPU temperature once the run is over. Being single-fan solutions, both the MSI GTX 1050 OC and the EVGA HTX 1050 Ti SC Gaming ran quietly even under load.
Previous Page 1 2 3 4 5 6 7 8 Next Page