Nvidia GeForce GTX 1050 and GTX 1050 Ti review: The new budget gaming champions
Two worthy successors to the legendary GTX 750 Ti.
Another Radeon advantage: If you plan to slap a second card into your system at some point in the future, the Radeon RX 460 would be your only option, as the GTX 1050 lacks SLI support. Most people who buy graphics cards in this price range would be better off investing in higher performance today rather than accepting lower performance with an eye toward the future, especially if you're slapping a sub-$150 graphics card into a prebuilt computer. Most "big box" PCs don't include extra PCI-E slots anyway.
AMD's price cut for the Radeon RX 470 makes things interesting, as it offers far superior performance to Nvidia's new cards. At its new $170 "suggested e-tail price" (SEP), an RX 470 would only cost $30 more than a GTX 1050 Ti. But be wary: The vast majority of RX 470 cards still sell for $185 or up on Newegg (a 33-fpercent premium over the GTX 1050 Ti), and the cheapest ones charge you for shipping. More crucially, the Radeon RX 470 demands the use of a six-pin power connector, which nullifies its potential for upgrading a "big box" computer into a gaming rig. It also draws significantly more energy than the GTX 1050 and Radeon RX 460 through that connector, and throws off much more heat under load.
The Radeon RX 470 will rock your gaming socks if you have both the budget and the PC for it, but it's a totally different class of card than the entry level GTX 1050 lineup.
Versus Nvidia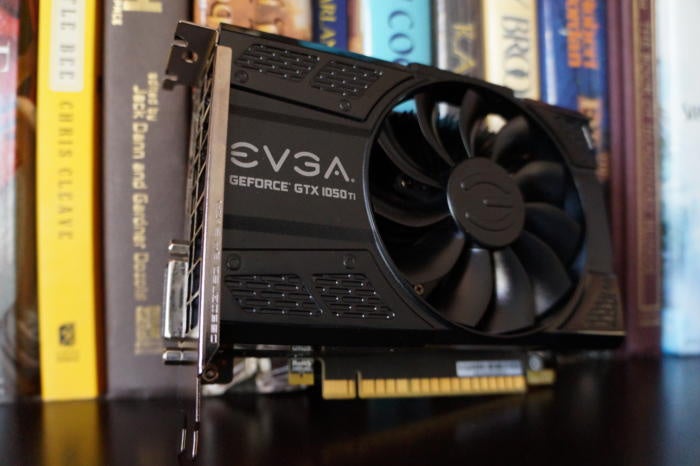 Nvidia isn't just competing with AMD though—it's also competing with older GeForce cards. The $110 GTX 1050 outperforms the older GTX 750 Ti by an average of 34.44 percent across our games suite at Medium graphics, hitting at least 50 frames per second in everything but Ashes of the Singularity. It's a worthwhile upgrade. The $140 GTX 1050 Ti beats last-gen's more potent GTX 950 by an average of 25.95 percent—a modest, but still sizeable leap made all the more impressive because the GTX 1050 Ti is powered wholly through your motherboard.
Snag the GTX 1050 if you'll stick to e-sports or less intensive games at Medium settings, but if you plan on holding onto the card for a few years, I'd suggest spending extra on a GTX 1050 Ti and its more future-proof 4GB of RAM. The GTX 1050 Ti also lets you hit roughly 60 fps with far more consistency than its lesser-powered sibling, as well as sneak in some higher-quality graphics settings. If you don't mind console-like frame rates, both of these cards clear 30 fps even at Ultra settings. Finally, between the card's superb power characteristics and support for HDR, 4K over HDMI, and more, these cards should be killer options for home theater PCs.
Previous Page 1 2 3 4 5 6 7 8 Next Page