Office for Windows 10 is not free for everyone
Business use will require 'commercial license,' but Microsoft leaves customers in the dark about licensing details for larger tablets, notebooks and 2-in-1s.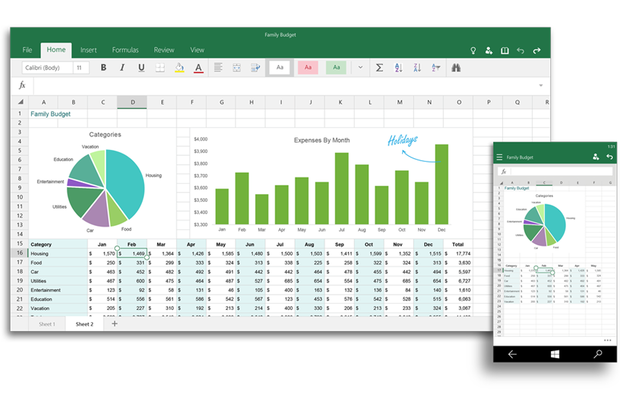 The touch-centric Excel for Windows 10. Credit: Microsoft
Microsoft will license some of the touch-based Office for Windows 10 apps in the same way it now handles those for iOS and Android, the company said today.
That means the same policy holds for business as before: Office still costs money.
But Microsoft's licensing plans for the apps -- the core trio as well as OneNote and Outlook, the firm's note taking and email clients, respectively -- are still unclear, both because Microsoft won't discuss every element and, at least in part, because of the company's Byzantine licensing practices.
Adding to the potential for confusion is that Microsoft will actually be releasing two sets of Office for Windows 10 apps: One for smartphones and tablets with screens smaller than 8-in., another for all other touch-enabled devices, including larger tablets, notebooks and desktops, and 2-in-1 hybrids.
And the two sets may be licensed differently.
While the apps will be free to use during the preview period -- which kicked off Wednesday with the launch of Excel, PowerPoint and Word for larger tablets and touch-ready PCs -- that will change when the software officially launches later this year.
At that time, consumers with the pre-installed apps on a smartphone or tablet smaller than 8-in. -- call that Office Small -- will be able to conduct "core editing, viewing and printing" tasks without having to pay. But some advanced features will be blocked, and unlocked only if the user has a consumer-grade subscription to Office 365.
Business customers must have what Microsoft said is a "commercial license" to use the Office for Windows 10 apps for work-related purposes. It's unclear what constitutes a "commercial license," but one would almost certainly be a subscription to a business-level Office 365 subscription.
Microsoft confirmed that in a follow-up answer, saying that Office Small's licensing would be "consistent with those required for Office apps on iPad and Android tablets."
Office for iPad, and the newer Office apps for Android tablets -- both released in 2014 -- require an Office 365 subscription for advanced editing and for commercial purposes. Consumers can unlock the advanced editing tools with an Office 365 Personal or Home subscription, which list for $70 or $100 annually; commercial use demands a business-grade Office 365 subscription, such as Office 365 Business ($8.25 per user per month), Business Premium ($12.50), ProPlus ($12) and Enterprise E3 ($20).
"This seems in line with what they've done otherwise," said Rob Helm, an analyst with Directions on Microsoft, in an interview. "But it is something of a turnaround for Microsoft not to favor Windows."