Roboadvisors stand at the vanguard of human-machine collaboration
The Vanguard Group's roboadvisor service blends algorithms and human financial advisors to help people manage their financial assets.
Pundits opine about how automation technologies will eliminate certain jobs, fueling a rise-of-the-machines kind of fear and loathing among tech workers. Horror story scenarios aside, evidence suggests it's far more likely that automation will augment rather than replace most jobs. Witness the financial services sector, where sophisticated algorithms called "roboadvisors" pair with humans to offer investment advice.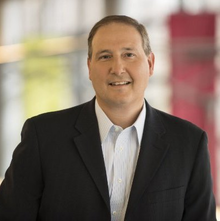 Vanguard CIO John Marcante.
The Vanguard Group, a power in mutual and exchange-traded funds with $3.2 trillion in global assets, has written custom software that offers clients tailored investment advice, a new but crowded market for a company whose clients are largely self-directed. But while many roboadvisors act alone, Vanguard pairs them with humans, creating a hybrid model that marries algorithmic portfolio planning and relies on human financial advisors to provide a white-glove touch. The product, called Personal Advisor Services (PAS), launched last May.
Vanguard CIO John Marcante oversaw the project and describes the company's mindset: "Could we leverage technology to enter what would be a pretty crowed [advice] market? Could we leverage technology in a way that provided massive scale that allowed us to be disruptive around price? And could we envision technology today to do this at scale with 20 million clients across our businesses?" The answers: Check, check and check.
Automated software such as PAS sets a precedent for a world where software and human collaborate in fields with specialized knowledge management. "Advances in automation technologies will mean that humans increasingly work side by side with robots, software agents, and other machines," wrote Forrester Research analyst J.P. Gownder in an August 2015 report. He estimates that by 2019 automation will alter every job category by one quarter.
How roboadvisors and human collaborate
At Vanguard, humans are collaborating with software to help people plan their futures. When clients sign up to use PAS, human advisors meet with them, typically via a video conference or phone call, to create a financial plan. From any computing device, clients access the PAS Web portal where roboadvisors builds a custom plan for investments. When the client agrees to a plan, the roboadvisor begins executing it. "We were able to bring down the methodology for managing large portfolios and create fully automated investment advice," says Marcante.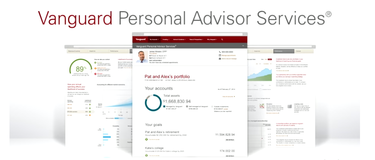 Human and roboadvisors meet up in Vanguard's Personal Advisor Services.
Vanguard's financial simulation software, essentially a predictive analytics tool that runs 10,000 simulations in under than a second, forecasts future returns and generates a set of outcomes over many time horizons. The client monitors the performance of their assets as well as progress toward their goals; the human advisor reviews and rebalances their portfolio to keep them aligned with those goals.