Roost Smart Smoke Alarm RSA-400 review: It's all about that battery
This 4-in-1 smoke detector comes with a smart back-up battery, but that's as high as it raises the bar.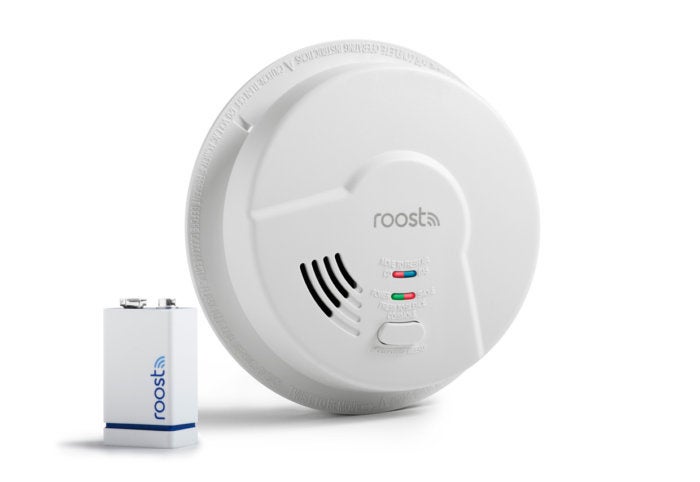 We gave the Roost Smart Battery high marks when it came to market late last year. Equipped with a removable Wi-Fi module and a tiny microphone, the battery will send an alert to you and as many "watchers" as you care to designate the instant your smoke detector sounds off. Now Roost has teamed with Universal Security Instruments to manufacture a pair of its own smoke alarms. The company sent its most capable model—the RSA-400—for us to review.
The RSA-400 looks like your ordinary, everyday smoke detector. The included Roost Smart Battery enables it to connect to your Wi-Fi network, and that's how it sends alerts to your smartphone if the alarm goes off. But the battery provides only backup power; the Roost Smart Smoke Alarm must be hardwired to your electrical system to operate. That's because it's a 4-in-1 alarm capable of detecting smoke, carbon monoxide, the flames from a fast-moving fire, and the presence of natural gas. Most of its competition—including the Nest Protect—lack that last feature, but the presence of all four sensors is why it must be hardwired, according to Roost.
That's fine if you're replacing a hardwired alarm, but you'll probably need to call an electrician if you're replacing a more ordinary model or putting this in a new location. Actually, Roost recommends hiring an electrician even if you're just replacing a hardwired alarm, but I suspect that caution is at the behest of the company's attorneys. I'll describe my own installation experience in a bit.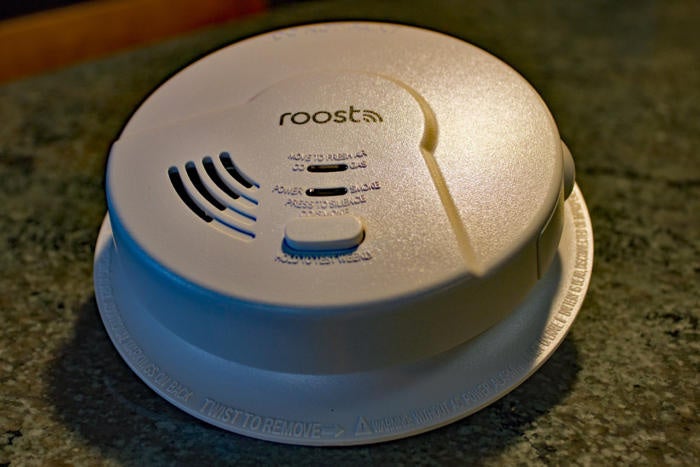 The Roost Smart Smoke Alarm has LEDs to indicate the presence of smoke, carbon monoxide, and natural gas (hopefully not all at the same time).
Each Roost Smart Battery you install gets a unique name, so you can tell which alarm is sounding off or which battery needs service (if it loses contact with your Wi-Fi network, for instance, or if it's nearing the end of its five-year life cycle). Roost tells me the alarm itself can distinguish between the four triggers—smoke, fire, CO, and natural gas—and that it will emit different alarm sounds accordingly: The standard temporal 3 (T3) alarm sound is emitteds when it detects smoke or fire, and the standard temporal 4 (T4) sound when it detects carbon monoxide. A third alarm sound is used in the presence of natural gas.
The Roost Smart Battery has an algorithm that can identify these sounds and will let you know which of the four dangers set it off when it sends its text message. I wasn't able to present smoke, fire, CO, or natural gas to the detector, so I just pushed the test button to set it off a few times. The first time, Roost sent a message that it had detected the presence of natural gas. When I pushed the button again a couple of hours later, it reported the possible presence of smoke and fire. I quizzed Roost about my experience and learned the device was not to blame. I'll explain why in a bit.