Roost Smart Smoke Alarm RSA-400 review: It's all about that battery
This 4-in-1 smoke detector comes with a smart back-up battery, but that's as high as it raises the bar.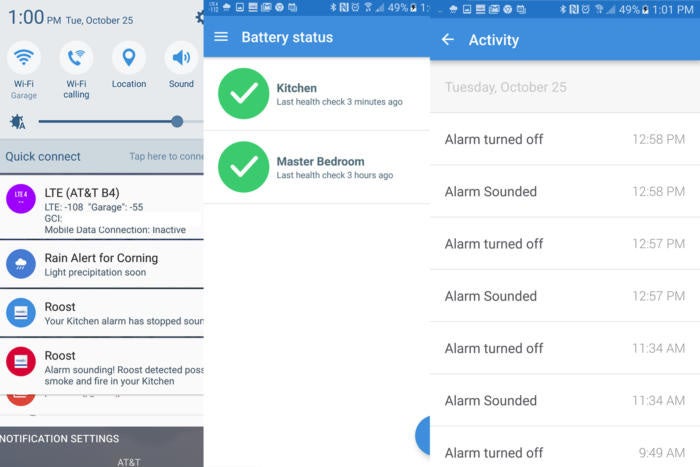 The screen on the left displays how Roost alerts appear on your phone. The center screen shows the status of each of batteries you're using, and the one on the right shows an activity log.
Should you buy one?
You can put a Roost Smart Battery in just about any smoke detector and get nearly all of the benefits that the Roost Smart Smoke Alarm delivers: Alerts on your phone when the detector goes off, the phone number for your local first responders right alongside the alert, alerts sent to monitors you choose who might be able to take action if you're not around, and no more 3AM chirps from a dying smoke-detector battery (you'll get an alert on your phone long before then). But the typical smoke detector can't detect smoke, fire, CO, and natural gas.
As I mentioned up top, Roost partnered with Universal Security Instruments to build the Roost Smart Smoke Alarm. That company's own comparable 4-in-1 detector (USI model MDSCN111) is $80 MSRP, but you'll need to buy your own battery. Choose a Roost Smart Battery for $35 MSRP and you're at $115. So you could say buying the Roost RSA-400 is like buying USI's detector and getting the smart battery for free. But that's only if you consider MSRP. At the time of this writing, Amazon was selling USI's 4-in-1 detector for $45 and the Roost Smart Battery for $25. At $60 for both, you'd be spending $20 less than if you'd bought the RSA-400; then again, this review was written the day before the RSA-400 reached the market. I don't know where its street price will land.
Having said that, with an $80 MSRP, the Roost Smart Smoke Alarm RSA-400 is $20 cheaper than a Nest Labs' Nest Protect. On the other hand, the Nest Protect is outfitted with a path light to guide you to safety, voice alerts to warn you of danger, and it can be incorporated into a broader smart-home system. That last feature means it can talk to other systems to do things like shut down your furnace if it detects carbon monoxide, turn off your HVAC system to prevent its fan from spreading smoke from one room to another, or trigger your Nest Cam to record a video clip that might show what happened.
You'll of course need to buy additional products to realize those benefits. With Roost, you'll need to rely on IFTTT to tie it to other smart-home products, and there are only a handful of existing IFTTT recipes. These include ones that will turn on your Philips Hue or Skylinknet light in response to an alarm, and another that will record a video on your Homeboy camera. You'll find more here, or you can create your own, but Nest is way out in front on this score. Just remember: the Nest Protect can't detect the presence of natural gas.
Previous Page 1 2 3