Sengled Element Touch review: A quirky, but inexpensive ZigBee bulb
The Sengled Element Touch is a ZigBee-compatible bulb with a few modestly compelling bells and whistles.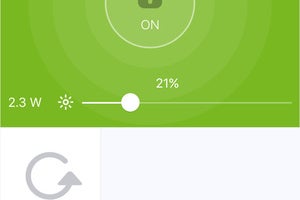 Sengled's app—and its bulb—have a curious limitation: You can't manually tune the bulb's color temperature.
I have more appreciation for the automatic color-tuning system. It makes sense that when the bulb is dim, you would typically want a warmer hue. But at full brightness it isn't necessarily the case that you would always want a colder temperature. If, say, you were reading a book in bed at night, you might need the full brightness of the lamp, but would want a quite warm shade in order to avoid keeping yourself awake. After dark, it's simply a bit too cold for my tastes.
The good news is that the Element Touch is an affordable ZigBee bulb that produces plenty of light. You may never use its physical switch, but it's worth considering anyway, provided you can get onboard with the bulb deciding what color temperature it thinks you need.
IDG Insider