Singlecue Gen 2 review: This gesture-recognition device nearly provoked our own rude gestures
Controlling your TV, lighting, thermostat and other devices with a wave of your hand sounds like fun. It's not.
How it works

Singlecue is a relatively simple device, and that makes it easy to set up and get going. Once I broke it out of the attractive packaging, I only needed to plug it in. It was nice not to have to connect it to a hub like the Harmony remote or even into the devices I wanted to control.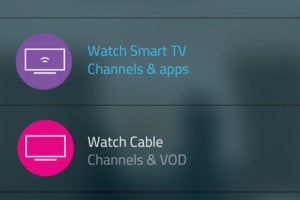 From there, I was instructed to install the Singlecue app, a free program available for both Android and iOS devices that acts as the software hub for controlling Singlecue. As with the hardware, the software setup was a breeze, as I connected my iPhone and Singlecue together via Bluetooth and then ensured my gesture controller was connecting to my home Wi-Fi network.
The app is where you find all of the products in your house that you want to control. In my case, I was able to add a slew of devices, including my television, Apple TV, and even the Philips Hue lights I have in my bedroom.
In order to find the devices I wanted to control, I needed to use the search function within Singlecue app. It was surprisingly zippy and found my products without trouble. Better yet, I didn't need to input individual model numbers. In the case of my Samsung HDTV, for instance, I only searched for Samsung televisions and the app took it from there. That stands in stark contrast to other universal remotes that require a specific model number to get the right controls.
Now that my Singlecue app was set up, I synched it with my Singlecue and was off to the races.
Singlecue looks strikingly similar to the Microsoft Kinect. It consists of a slim, rectangular body with an integrated camera that analyzes movement. It also has a small color LCD in the center that provides visual feedback so you know which aspect of each device you're controlling.
Like the Kinect, positioning is everything with Singlecue. It needs to be around your television (directly above or below it, ideally) and directly facing wherever you might be sitting. Singlecue also recommends you don't go any farther than about 13 feet from the device or it might not be able to see your commands.
I found positioning Singlecue a little difficult. I placed it on a media center under my television and faced it to where I'd most likely sit. I needed a vertical angle, however, and tweaking how far up or down Singlecue points isn't so simple. The camera basically sits on springy arm that won't stay in any one position all that easily. That made for a somewhat difficult experience of finding where in the air to place my finger once it was up and running.
Previous Page 1 2 3 4 5 Next Page