Singlecue Gen 2 review: This gesture-recognition device nearly provoked our own rude gestures
Controlling your TV, lighting, thermostat and other devices with a wave of your hand sounds like fun. It's not.
Once I finally had Singlecue in a (generally) acceptable position, the device guided me through a quick tutorial. It taught me the basics of using Singlecue, including where to position my finger, how to "click" on the items I wanted, how to navigate controls, and how to silence the device when done.
I was happy with the controls' simplicity. Lifting your index finger in the air tells Singlecue you want to start controlling your devices. Choosing an item, like volume or channel up/down, requires you to have your index raised and then flick down as if you're tapping on a button. To move around the controls, you need to keep your index finger up and move parallel to the floor left or right. A simple "shh" gesture—placing your index finger over your lips—tells Singlecue to turn off.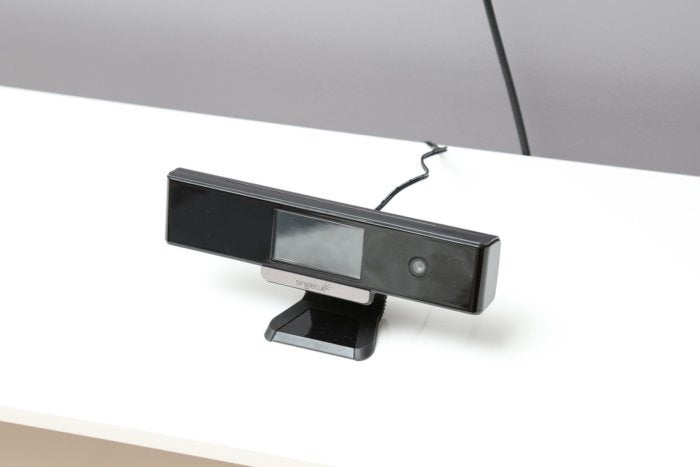 Singlecue doens't perform well when you're off axis to it.
The gesture experience

In general, using gestures with Singlecue works fine. When you're in the camera's line of sight, it recognizes your hand without trouble and will track it as you move around—but only if Singlecue can find your finger in the first place. Singlecue sometimes failed to recognize that I wanted to use it, and there were other times when it would just sit in my entertainment center, silent, as if I had never moved a muscle. On far too many occasions, I found myself wagging my finger in the air vainly trying to get Singlecue to wake up, even though I was seated exactly where I was when I first calibrated it.
When Singlecue did work properly, it worked as promised. The display on the front of the device gave me the option to unlock its built-in software and start to control my devices. Holding my hand steady in the air, I moved left and right to find the device I wanted to control, performed an imaginary tap to "click" on the feature, and was off.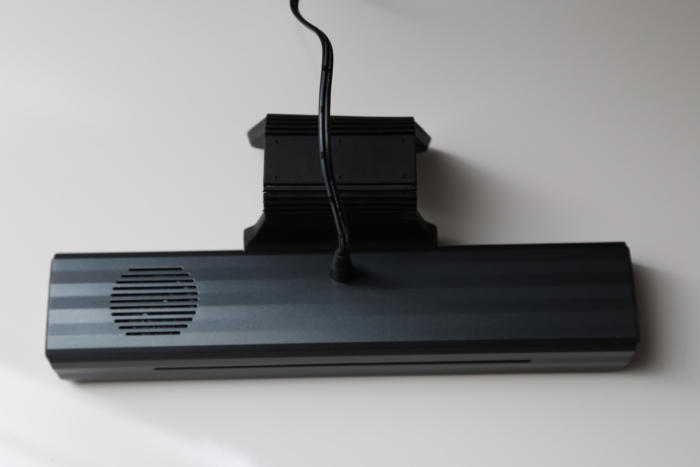 You can bend Singlecue's stand to a near 90-degree angle and balance it on top of your flatscreen TV.
Singlecue's software is well done. The user interface is easy to understand, even if it uses icons for many functions, and it was easy to see in both high- and low-light conditions from a distance of more than 10 feet. It was arguably one of the key features in making the Singlecue work as it was supposed to—under the right conditions.
I was similarly impressed with Singlecue's ability to track my movements (that is, when it actually could tell what I was doing). The software was responsive as I shuffled through my options, and when I finally decided to turn on my television or flick on the lights, there was little to no delay.
Previous Page 1 2 3 4 5 Next Page