Singlecue Gen 2 review: This gesture-recognition device nearly provoked our own rude gestures
Controlling your TV, lighting, thermostat and other devices with a wave of your hand sounds like fun. It's not.
To take a bit of the work out of doing multiple things at once, like turning on the TV, setting the mood with the lights, and watching a particular channel, Singlecue allows you to define Activities with its mobile app. These are basically scripts that can control several devices in a sequence. I created several activities and synched the app with Singlecue. When I air-clicked an activity, the devices I had preset would turn on and perform the steps in the script. The inputs changed as they should and the feature worked just fine. I didn't even need to know how to do it with the conventional remote.
So the hardware worked fine when it could see my finger, but getting through the different functions to find the channel-up button or to turn the volume down was a pain. The idea behind Singlecue is to make controlling home entertainment devices a bit easier. But I found it made it more difficult.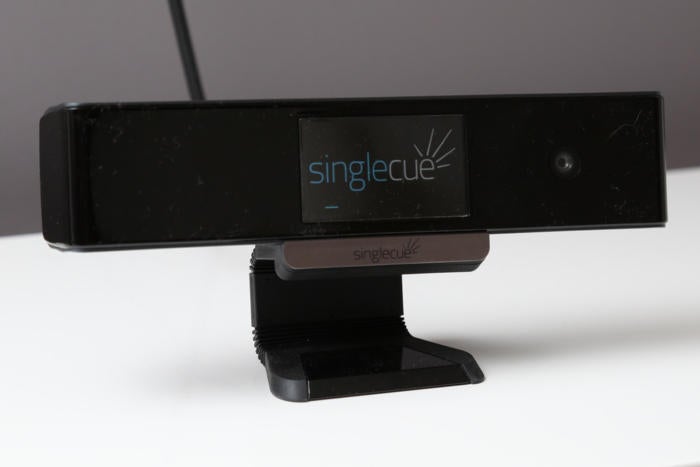 Singlecue's display provides confirmation feedback.
There were far too many times when Singlecue wouldn't recognize my "wake-up" gesture. Once it would, switching between controlling my Apple TV and my TV and then back again required big movements of my arms. In the time it took me to switch inputs, find a show I wanted to watch, and turn up the volume, I could have performed the same routine using my standard remote several times over.
Singlecue argues that its device is an "upgrade" for your home, and it promises it will make your life with electronics much easier. If the sensor worked the way it should all the time, and there was an easier way to switch between the devices I wanted to control, I might agree. But even with considerable time spent customizing its software and creating activities, Singlecue fell far short of that goal.

What About Different Conditions?

Singlecue also proved disappointing under certain conditions. One of the nice things about watching TV is you can do it late at night when you have nothing better to do. And your remote will work just fine regardless of the time of day or the lighting in your bedroom.
Not Singlecue. Since it needs to be able to see your finger and its movement, Singlecue is practically useless in low-light conditions. I even turned on one light in the room to chase away the darkness, but it still fell short. The only times Singlecue worked as it should was when there was ample sunlight from the windows flooding the room or when I had all of my bedroom lights on at their full brightness.
Previous Page 1 2 3 4 5 Next Page