Smanos W020 WiFi Alarm System review: Buy just the parts you need
It's effective enough, but a la carte pricing is really the only thing that sets this inexpensive DIY home security system apart from its competition.
Home security systems, whether DIY or professionally installed, come in two basic flavors: Professionally monitored systems that can contact emergency responders on your behalf, but that come with contracts and monthly service fees; and self-monitored systems you pay for just once, but that notify only you of an emergency. The Smanos W020 WiFi Alarm System is the latter, but calling it a "system" is a something of a misnomer because it's really just an alarm. The sensors and accessories needed to trigger it are sold separately.
That's not necessarily a bad thing, because it allows you to assemble just the right collection of components for securing your home, versus whatever Smanos might consider to be the average home. And Smanos' devices are reasonably priced: The W020 itself, for example, costs $100. You can add a motion sensor for $39, door/window sensors for about $28 each, key fob remotes for $25 each, and a security camera for $125.
Smanos also offers various starter kits at discounts over buying each component on its own. We found one such bundle, consisting of the W020 Alarm, the IP6 security camera, two door/window sensors, and a key fob priced at $265 on Amazon.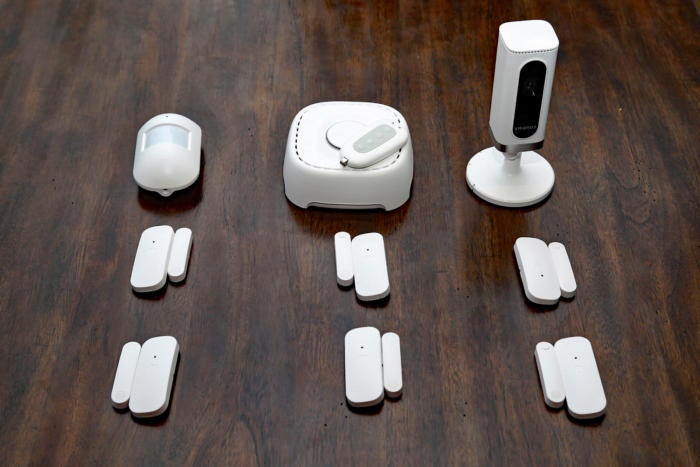 For this review, Smanos sent its W020 hub/siren, IP6 security camera, MD2300 motion sensor, RE2300 wireless remote, and six DS2300 door/window sensors.
The system as reviewed
For this review, Smanos assembled a kit that included the alarm, a motion sensor, six door/window sensors, and a camera. Everything is wireless, of course, except for the power cords needed for the alarm and the camera. Purchased at Amazon, the collection Smanos sent would add up to about $460. The W020 alarm can also interact with Smanos' smoke detectors, natural gas sensors, flood sensors, and remote control keypads and fobs, but it's limited to 10 remotes and 30 sensors.
The Smanos system is very easy to set up, we had ours configured in less than 30 minutes. The W020 is a small white box with a circular LED indicator on top. The ring glows green when the alarm is unarmed and turns red when armed via the smartphone app (there are Android and iOS versions) or one of the remotes. If one of the sensors triggers the W020, it sends a push notification to your smartphone and fires off its onboard siren.
While Smanos rates the siren at 105dB, I didn't find it all that piercing compared to some other systems I've tested. It would wake you up if you were home, but it probably wouldn't draw your neighbor's attention. And while the W020 has a backup battery that will enable the siren to continue sounding if an intruder unplugged it from the wall, it wouldn't take but a few seconds for the perp to open the battery compartment and pull them out.