Tech to help protect Final Four crowds
Video, social network and drone surveillance in arsenal; FBI sees no current credible threats.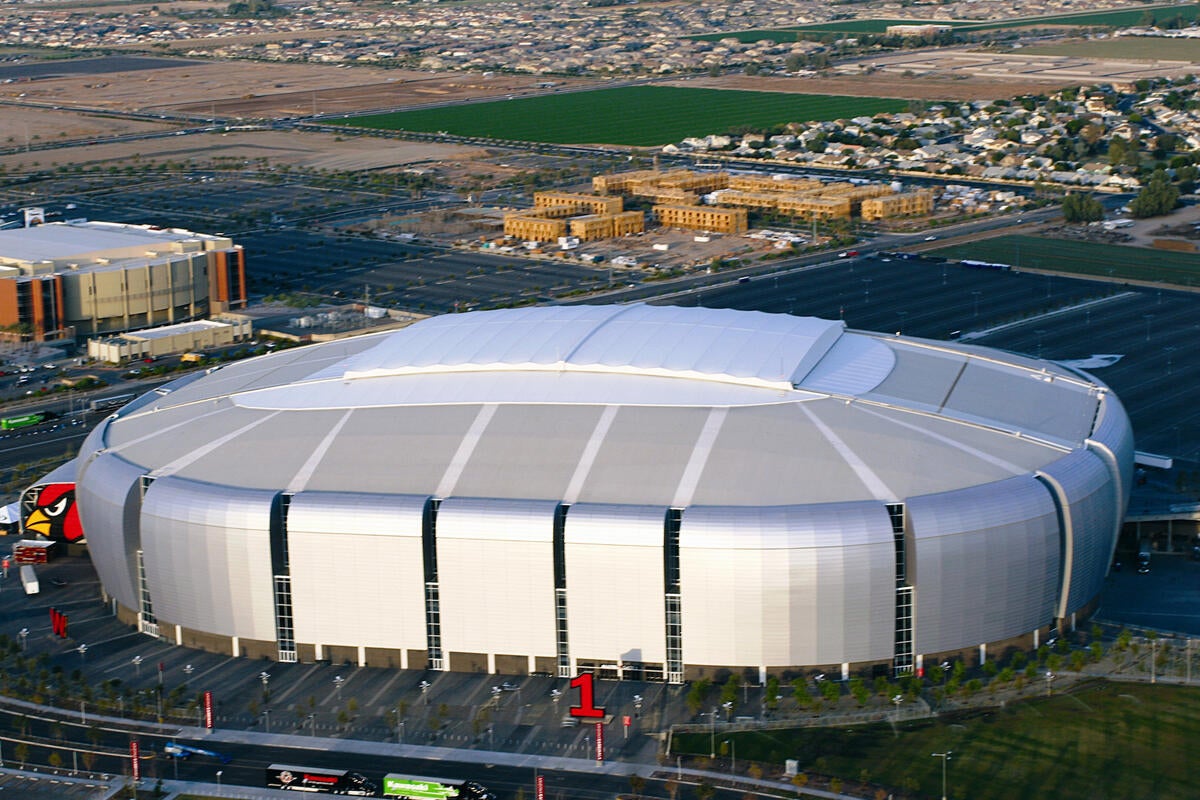 At this weekend's Final Four college basketball tournament, sophisticated technology is in place to help public safety officials monitor crowds, vehicles, social networks and unauthorized drones from a command center at an undisclosed location in downtown Phoenix.
An array of thousands of cameras and other sensors are already in place across public venues and roadways in the Phoenix area. The games will take take place Saturday night and Monday night at the University of Phoenix Stadium in suburban Glendale, Ariz., nine miles from downtown.
In the stadium alone, more than 700 video cameras are likely to be used to monitor vendors and crowds. Thousands more video cameras and motions sensors are ready to watch vehicles on highways and crowds at 20 Final Four special events, at the four hotels where college teams are lodging and in parking areas.
Public safety officials used the video cameras, sensors and related technology to monitor social networks and drone activity at two major public events in the Phoenix area in the past year, according to public safety experts who spoke to Computerworld. It is very possible the FBI and area police departments will rely on that same technology and analytics software this weekend to make decisions should any major emergency occur.
On Saturday, the South Carolina Gamecocks face the Gonzaga Bulldogs at 6 p.m. ET. Following, the Oregon Ducks play the North Carolina Tar Heels at 8:49 p.m. ET.
Public safety officials in the command-and-control center will monitor and react to metadata from these video feeds, as well as to data from various sensors. They will also watch social networking feeds, tracking posts by certain people and groups associated with terrorist and criminal activities.
Officials will also be able to track radio communications to and from unauthorized drones near the stadium and other venues, then focus cameras on the drones. They will then be able to hack into radio communications to those drones and take control of them and move them out of the way, said Chris Jensen, director of critical infrastructure, investigations and intelligence (CI3) for Hitachi Data Systems.
Jensen is a former undercover detective, intelligence analyst and systems administrator for technology surveillance for the Phoenix Police Department, where he worked for 20 years.
Hitachi is providing a suite of software for the Final Four events and games to aggregate data from disparate security cameras, sensors and related systems into the command and control center on a real-time basis. These different stovepipes of data include the stadium's video system, disparate 911 systems, video from Glendale and the Arizona Department of Transportation, as well as drone detection and information from social media that can indicate a threat, Jensen said in an interview.