Tested: This all-AMD US$650 PC proves VR-ready rigs don't have to be expensive
This affordable VR PC is powered by AMD's FX-6350 and Radeon RX 480.
Experiencing virtual reality will blow your mind, but it'll also demolish your wallet. Or at least that's what people think, and that perception was exacerbated when Oculus's CEO said that building a Rift setup from scratch will set you back a cool $1,500. Since the Oculus Rift itself costs $600, that implies you'll need a $900 PC to run it. I often hear people say you'll need to spend about $1,000 on a PC for VR.
Nothing could be further from the truth—and it's all thanks to AMD.
Team Red trumpeted the arrival of "VR for the masses" with the launch of its Radeon RX 480, a graphics card that revolutionized what's possible for $200. But the real key to virtual reality on a budget quietly lies in AMD's affordable processors. FX chips aren't even mentioned in Oculus Rift's PC requirements, but many of them indeed power VR experiences, and for far less cost than the Intel Core i5-4590 ($195 on Amazon) Oculus recommends.
To drive the point home, AMD designed a VR-ready DIY PC whose hardware costs a mere $650(ish), with the FX-6350 and Radeon RX 480 as its cornerstones. And then they offered to send it to us for review to verify that it's indeed capable of engulfing you in digital worlds without barf-inducing frame rate compromises.
Of course we said yes. Let's dig in.
Meet AMD's $650 VR PC
Here are the specs for the rig before we dive into analysis. (AMD really likes Corsair! Though we do too, if PCWorld's dedicated graphics card test system is any indication.)
FX-6350 with Wraith cooler ($118 on Amazon with AMD stock cooler, or $130 on Newegg with Wraith)
Radeon RX 480 4GB ($200 on Newegg)
Gigabyte GA-970-Gaming SLI motherboard ($99 on Amazon)
Corsair Vengeance (2x4GB) DDR3-1866 memory ($43 on Amazon)
Corsair Force LE 240GB SSD ($65 on Amazon)
Corsair CXM 550W Bronze ($54 on Amazon)
Red and white Corsair Spec-Alpha case ($80 on Newegg)
Add it all up and you've got a grand total of $659 as of September 6. Pricing for PC parts fluctuates regularly—we've seen the cost of this rig vary from $649 to $680 while we've had it for testing—but AMD's definitely fair to call this build a $650 PC.
That glosses over a few very real points, however.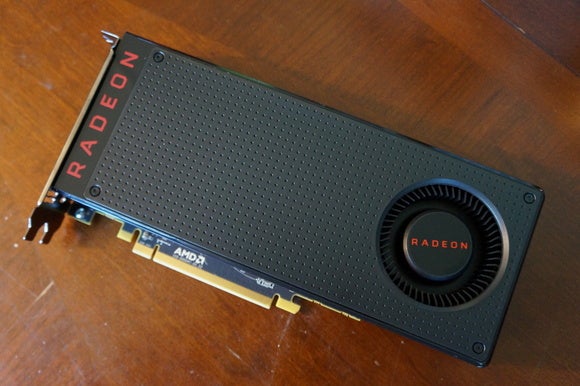 First of all, Radeon RX 480s simply don't exist at AMD's ballyhooed $200 price point. Reference models of the 4GB RX 480 disappeared immediately after launch, and all 4GB RX Radeons have been in short supply since. The most affordable version online is the Sapphire Nitro+ RX 480 at $230 on Newegg, and it pretty much hasn't been in stock since we reviewed it. XFX's $240 Radeon RX 480 with a custom backplate is the cheapest card you can actually buy on Newegg right now. Your best bet is to use NowInStock.net to track which models are available at any given time. In reality, you're more likely to spend closer to $250 on a 4GB Radeon RX 480.