Tested: This all-AMD US$650 PC proves VR-ready rigs don't have to be expensive
This affordable VR PC is powered by AMD's FX-6350 and Radeon RX 480.
You'll also need Windows, since neither the Oculus Rift nor the HTC Vive support Linux yet. Sure, Microsoft lets you install and use Windows 10 without a product key, but you'll still need to buy a license and activate it to be legal. That'll cost you another $110, bringing the grand total for this PC closer to $800 in real life, assuming you already have a keyboard, mouse, and monitor on-hand—still a relative steal for a VR-ready machine. And we'll get into ways to shave more pennies off the total after looking at how this rig actually runs.
Before we dive into performance results, here's a nifty AMD-made video of FX PR manager Jason De Vos building a digital version of this very rig in VR.
I wish cable management was this effortless in real life—though the AMD employee who built this PC did his damnedest to make it seem so.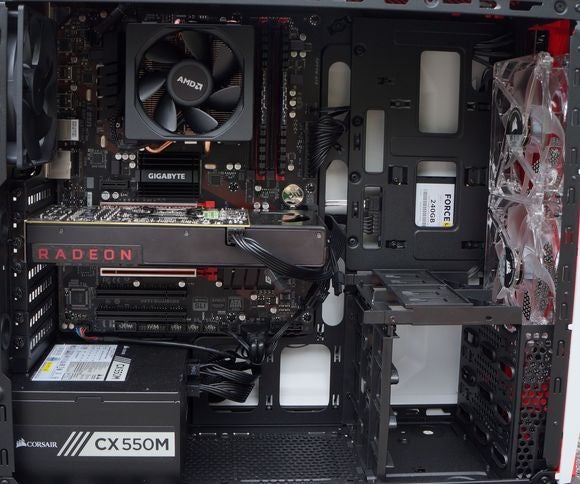 That's pretty good for a low-cost PC! But I'm getting distracted.
Testing AMD's affordable VR PC
I tested the chops of AMD's DIY VR PC using the $800 HTC Vive and an array of virtual reality games. Before I slipped the headset on, however, I ran Valve's SteamVR performance test on the system. Neither Oculus nor HTC officially support the FX-6350 and I feared I'd be transported into a juddering digital world of dropped frames that would instantly spur Exorcist-style vomiting.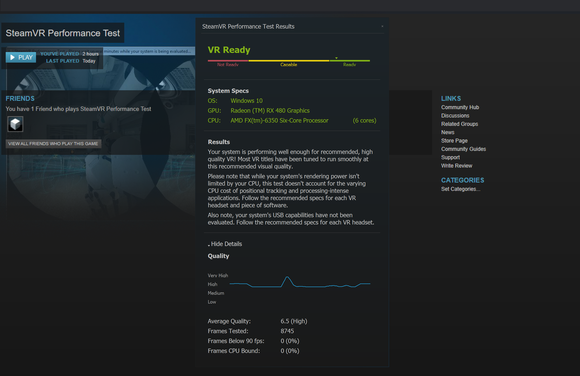 I had nothing to worry about. AMD's machine falls firmly into the VR-ready range despite its humble cost. Satisfied, I slipped the Vive over my head.
And instantly found myself immersed in new realities.
I marveled as the Millennium Falcon swooped mere feet above my head in Star Wars: Trial on Tatooine. I gasped as a gigantic, majestic whale almost swiped me with its tail in theBlu. I braved yawning chasms in Everest VR. Audioshield's frenetic action left me literally feeling the music—and physically wrecked. Petting and playing fetch with The Lab's cute robo-dog proved curiously satisfying, while Elite: Dangerous' impressive universe became downright awe-inspiring armed with the Vive and HOTAS flight stick.
Through it all, AMD's DIY rig delivered a rock-solid virtual reality experience free of jarring frames drops and stuttering, no matter how quickly I whirled my head around or how hot and heavy the onscreen action became. I experienced some very slight hitching the first time I played fetch with The Lab's dog, but was never able to reproduce it. Experiencing VR with AMD's $650 PC feels great, full stop.
Most of the first wave of VR games lean more heavily on GPUs than CPUs, though, and the Radeon RX 480 is a relative beast. If there's a weak spot in this build, it's that affordable but years-old FX-6350 chip. So I leaned on it.
Previous Page 1 2 3 4 Next Page