Tested: This all-AMD US$650 PC proves VR-ready rigs don't have to be expensive
This affordable VR PC is powered by AMD's FX-6350 and Radeon RX 480.
To do so I created some truly fantastic contraptions in Fantastic Contraption. The game's indeed fantastic—wondrous, even—but more importantly for our purposes, it's a game rife with physics-based interactions that need to be handled by the processor. To test the FX-6350's limits, I spawned a slew of wheels and sticks and balloons and more, cobbled them together like some sort of cartoonish Frankenstein, and set the monstrosity in motion while I whipped my head around.
It didn't deliver the game's floating jelly ball to its pink goal. But it ran flawlessly. Like I said: Experiencing virtual reality with AMD's US$650 PC feels great.
Dissecting the build
So AMD's $650 VR-ready PC does what it sets out to do, and thanks to the color coordination between the Corsair Spec-Alpha case, the Gigabyte motherboard, and Radeon's own red branding, it manages to look damned finewhile doing so. I wouldn't change much about it, frankly.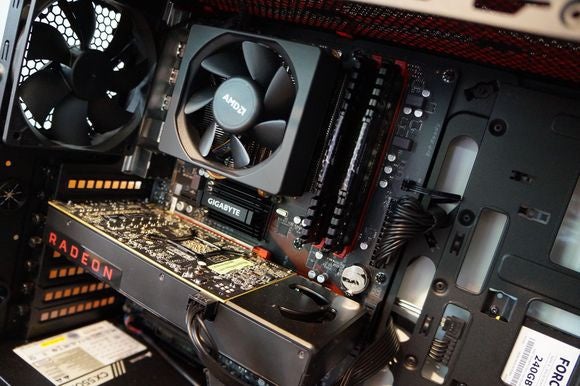 But if sticking to that $650 price matters more to you than aesthetics, you can reclaim some of the budget eaten up by the unexpectedly high street pricing for the Radeon RX 480.
I personally enjoy the angular "gamer aesthetic" of the $80 Spec-Alpha case, but using something like Corsair's own Carbide Spec-01 ($48 on Amazon) would save you $30. That alone could compensate for the extra RX 480 cost, depending on which model of the graphics card you manage to snag.
If you have a spare hard drive already hanging around, opt for a 120GB SSD like the OCZ Trion 150 ($45 on Amazon) as a boot drive rather than the $65, 240GB Corsair model AMD recommends.
You can save $10 on the memory by choosing Kingston's 2x4GB HyperX Fury kit ($36 on Amazon) instead.
The Gigabyte GA-970-Gaming motherboard's color scheme looks great inside the Spec-Alpha, but you can find a ton of decent AM3+ motherboards for around $50. If you shop around, just make sure your replacement meets the requirements of the VR headset you plan on using—namely, the Oculus Rift requires a pair of available USB 3.0 ports.
If you find a $200 Radeon RX 480 and follow the tweaks above you could conceivably drive the final cost of the PC down to $550 or so before a Windows license. That's almost half the cost of the $1,000 many people cite for a VR-ready PC. Hot damn.
Two areas I wouldn't suggest changing out are the heart of AMD's $650 VR PC build: The processor and graphics card. Not only are they central to the smooth VR experience of this rig, but messing with either would undermine its core principles.
Previous Page 1 2 3 4 Next Page