TextExpander 6 review: A snippets subscription service that's priced too high
TextExpander moves from paid apps to a subscription ecosystem with identical apps and an immature Web interface.
The TextExpander utility saves keystrokes by letting you type a short sequence that's replaced by a longer one. That's the heart of the app, which has expanded (sorry) its repertoire of replacement types over time to include form letters with fill-in and drop-down elements, a library of emoji, and a host of placeholders for date, time, the contents of the clipboard, and other elements.
The previous updates for OS X and iOS are less than a year old; we reviewed version 5 of TextExpander for OS X last June and our high opinion of the core software remains unchanged.
However, the reason for this new review is a significant change in how its maker, Smile, prices the software that's coupled with mandatory cloud-based synchronization through its own servers, as well as options to share continuously updated snippets for individual users and groups.
With the new ecosystem, the TextExpander apps for OS X and iOS (and a beta for Windows 7 and later) cost nothing, but work only when there's an active monthly or yearly subscription. Further, the company's website becomes a required hub for all users, whether they sync and share or not.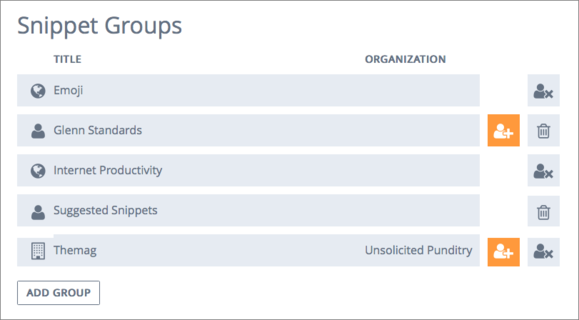 The web app manages sharing snippets, which are organized by type and use icons to identify additional characteristics, like globally shared.
For details about core features in TextExpander, consult our version 5 review. In this review, I'll point out changes in the snippet editor, but will be focused on the ecosystem of apps: First, how it all works; next, security decisions and tradeoffs; and finally, how existing users should approach the new arrangement.
But I can start with the conclusion: This first iteration is overpriced for most users' needs, and removing the ability to use TextExpander on a standalone basis with a less efficient personal sync doesn't give existing customers any advantage. Smile says it plans to add additional features and sophistication, which may ultimately make it worth the price to some users in the future, including those upgrading from the previous standalone releases. But we review the software and service in front of us, not a future version we can't test.
Moving to cloud city
The new set of TextExpander apps revolve around and connect to Smile's servers. You're required to set up an account and it has to be in good standing—currently paid for and active—to use snippets on any copy of the app you have, as well as to access sharing features on the website. If you're logged out or the subscription lapses, snippets disappear. (They can be exported from the OS X version to retain copies.)