TextExpander 6 review: A snippets subscription service that's priced too high
TextExpander moves from paid apps to a subscription ecosystem with identical apps and an immature Web interface.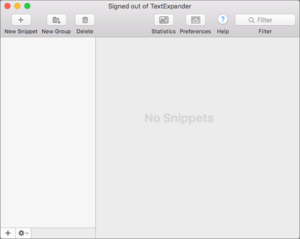 When your subscription is inactive, TextExpander empties all the snippets.
The new app versions comprise TextExpander 6 for OS X, TextExpander 4 for iOS, and TextExpander 1 for Windows (in beta). There's no purchase cost for the apps. The two subscription levels are labeled Life Hacker (for consumers) at $5 billed monthly or $47.50 per year and Team (for businesses) at $10 billed monthly or $95.50 pear year. Smile offers a 30-day trial for both flavors of its service.
Both tiers allow something previously unavailable in TextExpander: publishing snippets to others that push out updates whenever the source snippet is changed. Previously, TextExpander required exporting a snippet group (a folder that collects items), sending that or loading it on a shared local or cloud server, and importing it in another copy of the app. (That option remains available.) Further, anyone with permissions to edit a shared snippet can make changes, and those revisions are in turn pushed to everyone that's part of the shared group.
The Life Hacker flavor lets subscribers share with any other user by email address. The Team version adds administrator-level features for showing group members, managing permissions, automatically pushing groups of snippets to people joining an organization or already part of it, and consolidated billing.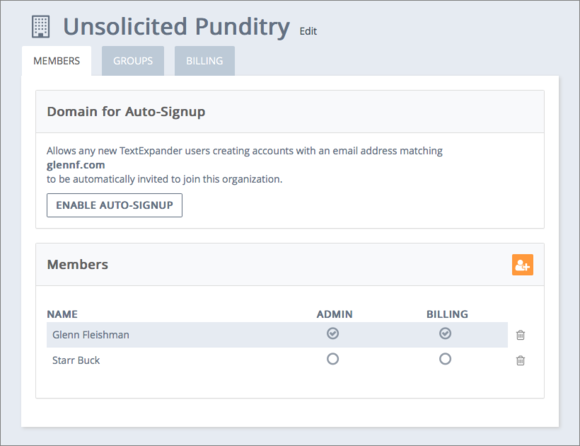 TextExpander now includes a Team tier for sharing snippets across an organization, managed via its web app.
This new ecosystem adds an ok, but slightly awkward web app to the mix. When logged into an account at Textexpander.com, you have the same access to groups of snippets and individual entries, and can even edit and add snippets using all the tools available in the native apps. (The website is also the only way to edit snippets with the current Windows beta, which lacks a front-end interface, and can only expand snippets defined elsewhere.)
Some snippet groups can't be shared, and the iconography isn't crystal clear. If you see an icon with a single person that also has an orange plus-sign icon to its right, you can add other users. The Suggested Snippets group, however, can't be shared, but has the single-person icon. Groups identified with a globe are set "worldwide" by Smile, such as for emoji.
Clicking the plus sign lets you enter email addresses, but not (yet at least) select people with whom you've already shared other snippets. There's no global or local address book, which reduces utility, though ensures more privacy. You can set permissions for whether newly added people have admin privileges, can edit, or further share the group, or change the permissions at any time as an admin for anyone with whom you're currently sharing.
Previous Page 1 2 3 4 5 6 Next Page