TextExpander 6 review: A snippets subscription service that's priced too high
TextExpander moves from paid apps to a subscription ecosystem with identical apps and an immature Web interface.
Teams have more controls, with admins being able to assign snippet groups that are automatically added to new or existing users' accounts. Team-shared snippets can be shared with guests outside the team, but a snippet group created for a team or moved under team management can't be converted back to a regular group via the web interface. Instead, you have to export it and import it back in, then delete the team version.
Syncing and sharing are the same thing in this new ecosystem, and in my testing it worked equally well among my devices with the same account and among devices logged in to different accounts that were sharing snippet groups.
The one significant change in the apps, by the way, involves both improvement and omission. A redesigned snippet editor has dropdown menus with all the special features, like inserting time-based placeholders, system keys, fill-in items, and the rest. This is a far superior interface for both new and experienced users. The editor is identical across the Mac, iOS, and web apps.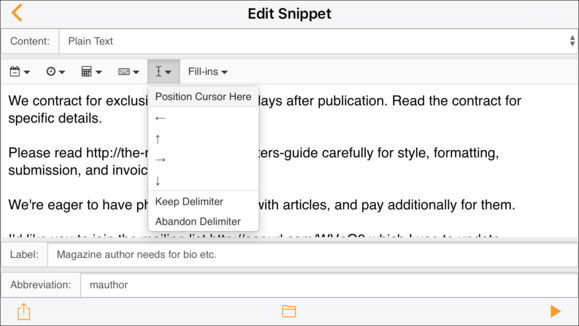 A refresh snippet editor is the same in Web, iOS, and OS X apps, and is a nice bump up in being explicable to new and veteran users alike.
However, there's also a step back. TextExpander for OS X used to have a split-pane view that provided a live preview as you assembled a snippet. This preview now requires a keystrokes (Command-Return), which produces a modal dialog that has to be dismissed. In the iOS app, tapping a forward arrow brings up a preview and tapping a back arrow takes one back. The web app lacks a preview entirely.
And there's an odd and unfortunate omission in this first outing related to sharing. You can't manage shared snippet groups via the native apps. Sharing, adding people, managing permissions, and other tasks can only be done via the web app. While I expect that will be remedied in future releases of the apps, it makes it feel as if the ecosystem was released too soon.
The Windows client is still in beta testing, and didn't work well for me on an up-to-date Windows 10 laptop; I couldn't get it to expand with the latest beta release and restarting the laptop. It's also "headless," as noted above, and has no snippet-editing or preferences interface.
Hidden in plain sight
Previously, Smile hasn't stored any snippet information on servers under its control. Any syncing involved required a third-party service, and snippets were as vulnerable to disclosure as the policies and protections offered by those other firms, like Dropbox and Apple (for iCloud).
Previous Page 1 2 3 4 5 6 Next Page