The best calendar apps for iPhone and iPad
With Sunrise scheduled to shut down soon, what calendar app should you get to replace it? Our list can help.
Readdle has been selling a calendar app for nearly as long as Apple has been making the iPad, and that experience can be felt all throughout Calendars 5 ($7). Powerful, versatile, and just a little bit fun, the deluxe day planner will dutifully track your day with power and panache that defies its mobile status.
A variety of views is common among most top-tier calendar apps, but Readdle leaves no stone unturned, offering calendars in all shapes and sizes: You can choose to see your day, week, or month, a list of your events, or filter down to just tasks. While you won't find anything to rival Fantastical's DayTicker among the fairly standard display options, its variety of views is a testament to just how well Calendars anticipates and responds to its users' needs.
Like Fantastical, Calendars picks up all of your iCloud entries, but a separate sign-in gives Google users a bit more control over syncing. All of the usual features are present here—recurring events, reminders, alerts, etc.—but Calendars employs a natural intuition that makes the whole process quite enjoyable. For instance, you can tap on an event to open a floating window that will tell you more about it (or let you change something). Or double-tap a box when in full calendar mode to quickly shift to that day's view. Or my favorite: If you want to reschedule an event, simply drag its tiny colored rectangle to a different date.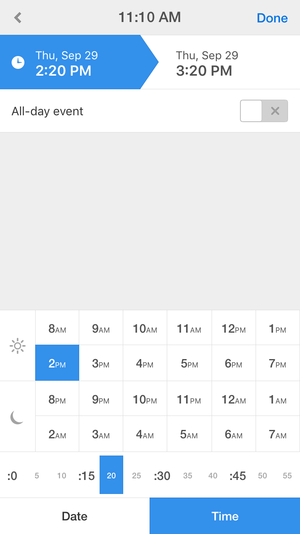 Even without dials or sliders, Calendars 5 lets you create appointments quickly and easily.
And drag-and-drop isn't the only desktop-caliber feature. Very little about Calendars feels much like a mobile app, and its utilitarian yet still elegant interface would be right at home on OS X. Even on the iPhone, Calendars' user experience belies its tiny screen, with smart gestures and slick navigation that make scheduling a breeze.
When it comes to event creation, Calendars excels there too. While its natural language engine isn't quite as mesmerizing as Fantastical's, it does well to understand what you type or say, whether it's a simple lunch meeting or a weekly task. And if you want to do things the old-fashioned way, Calendars' date selector is one of the best you'll find, eschewing dials for a grid method that eliminates any fumbling and lets you create even custom recurring events in seconds.
And that, in a nutshell, is Calendars' main appeal. Everything about it is designed for speed and simplicity, and after using it for a few days, Calendars just might be the sole calendar you'll ever need.
Best for Android switchers: Google Calendar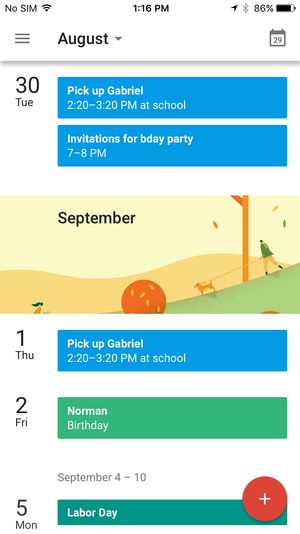 Android switchers will instantly know their way around Google Calendar on the iPhone.
Previous Page 1 2 3 4 5 6 Next Page