The best calendar apps for iPhone and iPad
With Sunrise scheduled to shut down soon, what calendar app should you get to replace it? Our list can help.
When you're in a strange land, a little familiarity is always welcome. The same is true with OSes. There might be a fair amount of overlap with Android and iOS, but switchers still have a lot of new stuff to learn. Thanks to Google, a calendar isn't one of them.
Google Calendar on iOS (free, iPhone only) is pretty much a carbon copy of the version it offers for Android users. While it may look out of place next to the calendars here that follow Apple's interface guidelines, Google's Material Design isn't without its charms. And with iOS's lag-free scrolling and touch response, Android users might actually get a better experience than the one they're used to.
But more than that, Google Calendar is as good of a calendar on the iPhone as it is on a Galaxy. Switchers can see all of their appointments and birthdays without learning a new interface, and even veteran iPhone users will appreciate its colorful card-inspired look that gives events an extra degree of glance-ability—just so long as they don't mind admitting that Android might not all bad.
Best for long-term planning: Informant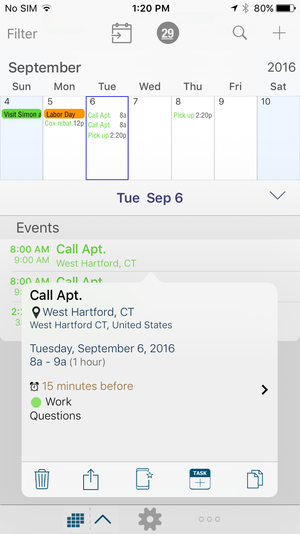 With notes, photos and checklists, Informant will let you meticulously plan all of your events.
While any of the calendars here are as adept at planning next month's vacation as they are with scheduling tomorrow's business lunch, if you're looking to chart out a serious long-term life plan, they might not fit the bill. But Informant (free to install, subscription required) will. Not only does it offer bountiful customization options that let you differentiate from things happening now and further down the road, it expands your events far beyond simply when and where they might be happening. If you're scheduling a project, for example, you can add to-do reminders or you can easily attach a packing list to a future trip. You can also add memos and sub tasks to make sure nothing is forgotten.
But what makes its planning abilities truly awesome is its text editing. Surely it's not the only app to offer in-event notes (in fact, even Apple's own calendar has them), but Informant's text capabilities are more than a mere extra field. You can write and edit full pages of rich text and attach images to create a complete picture of your event. Informant's iPad interface could use a little updating, but if you're an obsessive long-term planner, its impressive tools and customization options will let you hammer out every last detail of your event.
Best for short-term planning: Timepage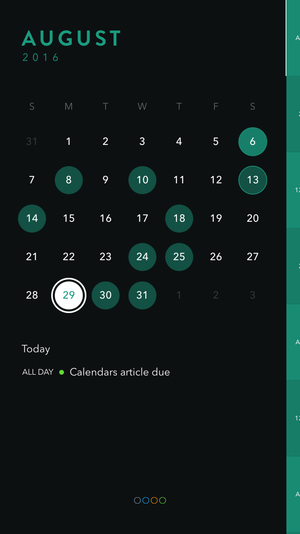 Timepage's slick, carefree interface is perfect for casual calendar keepers.
Previous Page 1 2 3 4 5 6 Next Page