The best calendar apps for iPhone and iPad
With Sunrise scheduled to shut down soon, what calendar app should you get to replace it? Our list can help.
If you only use your calendar for the most important events in their life, many of the apps here are probably too much calendar for your needs. But if you still want an alternative to Apple's standard Calendar, Moleskine's Timepage ($5, iPhone only) might be just the ticket. Straddling the ever-thinning line between a to-do app and a calendar, Timepage doesn't overwhelm you with features or options—rather, it offers an elegant spin on the day planner with a beautifully crafted, minimal interface.
Timepage utilizes a series of color-coded circles to illustrate your busiest days—a system vastly superior to the classic dot method, especially if you're a casual calendar user. At a glance you can quickly see when your events are taking place, and scheduling a new one utilizes a delightful scroll bar that makes the process easy and fun. Events themselves get weather forecasts and travel estimates, all of which are also available on its companion Apple Watch app.
Best for your social life: UpTo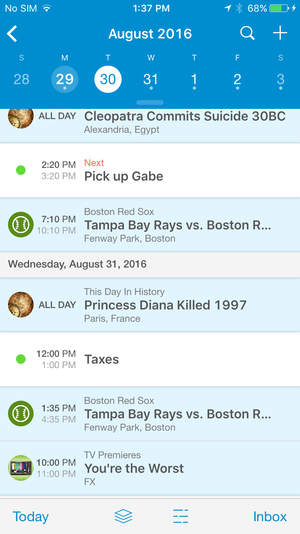 If you want to know what's going on in the world around you, just give UpTo a pinch.
No matter which calendar you choose to make your own, there's one thing that's consistent across all of them: They're only as useful as the data you feed into them. UpTo (free) takes a different approach. While you can use it to plan your schedule just like a regular calendar, it's not just for tracking the things you have to do—it also keeps you up to date on stuff you want to do.
UpTo is kind of like a page-a-day calendar for the digital age. With a variety of community calendars to choose from, the app does a remarkable job of turning your boring calendar into one you'll want to visit each day. Along with your personal dates, UpTo shows you important dates in history, TV premiers, sporting events, concerts, and anything else worth knowing about. And it doesn't clutter up your calendar to do it—to access your social calendar, simply pinch out on your main calendar to see what's happening in the world beyond your own.
Others of note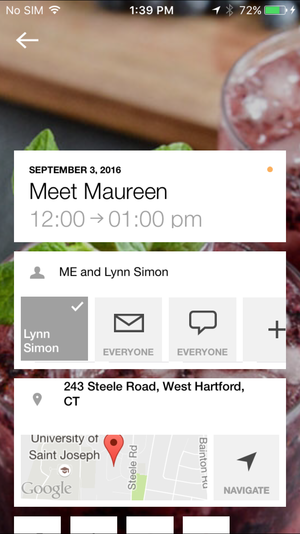 Cal puts less of an emphasis on what you're doing and more on who you're doing it with.
Much like the hundreds of wall calendars that fill the shelves of that kiosk in your local mall each December, the App Store is loaded with more calendars than you can shake a stick at. And while there might not be any that feature tiny kittens doing adorable things, you're almost certain to find one that fits your tastes.
Previous Page 1 2 3 4 5 6 Next Page