The best calendar apps for iPhone and iPad
With Sunrise scheduled to shut down soon, what calendar app should you get to replace it? Our list can help.
Anyone who enjoys the sleek stylings of Any.DO's task management will love Cal's (free, iPhone only) simple, breezy take on day planning. With a slick, speedy interface that puts a heavy focus on the people in your life, Cal turns calendar keeping from a chore into a downright pleasure.
If Cal isn't minimal enough, Peek ($3, iPhone only) ditches the calendar format altogether. Clean and hyper-focused to the point where it barely looks like a calendar at all, Peek turns the traditional square grid on its head with a gesture-driven interface that will change the way you schedule and view your events.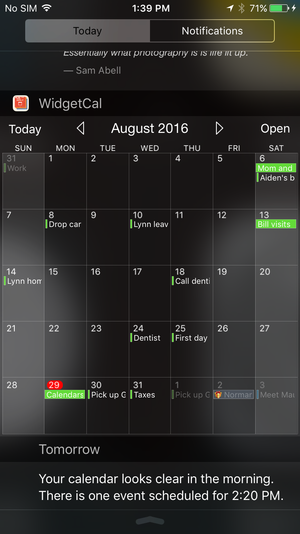 WidgetCal is a must if you send a lot of time in your lock screen's Notification Center.
If your life revolves around your calendar, 24me (free) wants to be at the center of it. More than a calendar, 24me keeps tabs on all of the things you need to remember—dates, to-dos, lists, notes and even bills—with a neat interface and a keen eye for organization. Like a personal assistant, 24me gets smarter as you use it and makes sure you never forget or blow off an important event.
Several of the calendars here offer widget companions to their main calendar, but WidgetCal (free) is devoted to it—and it shows. With a bright, colorful design and a surprising amount of customization, WidgetCal puts a complete picture of your life right in the Notification Center. And if it didn't have to rely on Awesome Calendar for inputting events, it would actually be powerful and flexible enough to be your main calendar.
That's not to say being forced to use Awesome Calendar ($7) is a bad thing. Packed with loads of features, including to-dos, checklists, notes, and photos, the all-in-one scheduling app overcomes its somewhat stale interface by handling your tasks and events with swift precision.