The best Mac accounting apps
You might think this is a category where Intuit's QuickBooks is king, but on the Mac, QuickBooks has some stiff competition—and it don't keep up.
MoneyWorks includes just under 100 reports, including sales tax reports for Canada and VAT reports for the U.K. If none of the applications existing reports fit your specific needs you can create custom reports of your own. Reports are available either from the Reports menu or from the main application window when you've selected a specific navigation area. For example, selecting Chart of Accounts from the navigation sidebar provides you with links for a number of account-related reports.
Two features make MoneyWorks a standout: Multi-user network capabilities and cross-platform client applications. (Features also found in Acclivity's AccountEdge product.) Sharing your MoneyWorks file on the network is as simple as opening the Sharing and Users settings and putting a check in a box to turn on sharing. (A Datacenter version allows access by iOS devices and multi-company hosting) By default the application allows access to anyone on the network, so to limit access you also need to password protect your data file. Once you do so you can add users and limit their access to features. Unfortunately, there is no group option for managing user access to data, so every user you create needs to have access managed individually.
Top contender: AccountEdge Pro
Depending on how you look at Acclivity's AccountEdge Pro ($399 new, $159 single user upgrade, $249 multi-user upgrade) it is either a little stale or as consistent as it has ever been. The basic idea behind the application's flowchart interface has been around since it was first released well before Mac operating systems were named after cats. Little has changed about the way the AccountEdge looks in nearly a dozen years, but, in terms of accounting capabilities, it remains a solid application.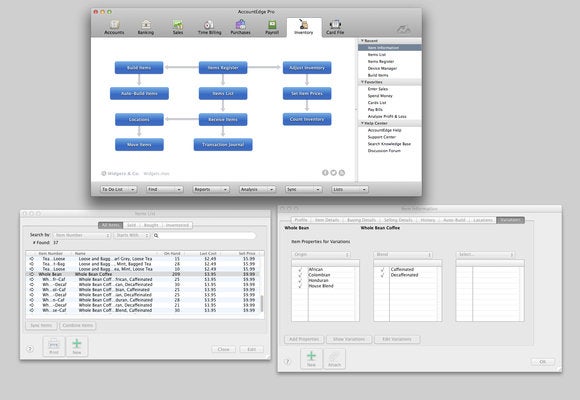 Little has changed in the way AccountEdge looks, but you'll find a number of new features under the covers that should enhance your accounting experience.
AccountEdge has long been an application that allowed you to do your business in a networked environment on both Macs and PCs and, like MoneyWorks, gives you control over who has access to specific parts of your company's financial data. The program still provides excellent tools for securing your data while still providing access to your accounting and inventory data in a multi-user, multi-platform environment.
While not much has changed on the front end, AccountEdge has added a few new features for 2014, including the addition of master inventory items that allow you to create dozens of varieties with out having to create distinct inventory items for each variety. So, for example, you can create a category called Whole Bean Coffee that can then be broken down into more specific varieties such as specific roasts in caffinated or decaf, all of which makes it much easier to manage your inventory. Acclivity has also rebranded and updated their AccountEdge web frontend, offering features in the cloud, including options for creating invoices and other transactions from a Web page.
Previous Page 1 2 3 4 Next Page