The best Mac accounting apps
You might think this is a category where Intuit's QuickBooks is king, but on the Mac, QuickBooks has some stiff competition—and it don't keep up.
The rest of the pack
Billings Pro 1.6.5
Marketcircle's Billings Pro (; $0/$5/$10 per month per user plans, or $99 per year per user) is beautifully-designed application that uses a subscription-based service with some Web-based features, but with which you create invoices, estimates, and collect time-billing information using your Mac OS or iOS device. Everything you do is created and managed locally and then synced with using a database that is hosted on Marketcircle's servers.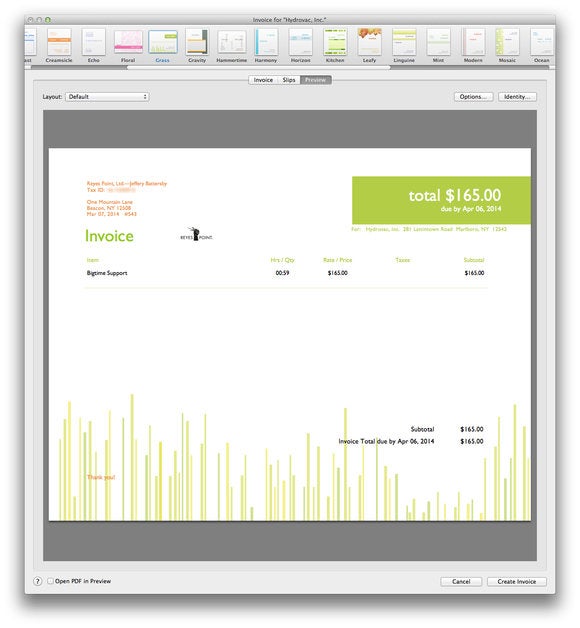 Billings Pro offers the most beautiful, customizable invoice, estimate, and statement documents you will find in any similar application.
I've used the Mac and iOS versions of the original Billings application for years and, like many, was disappointed when Marketcircle dropped the standalone application in favor of a client-server subscription model. That said, after about a month of using Billings Pro instead of the standalone application, I found it to be better than the old standalone version.
Billings Pro is not an accounting application, but you can export Billings Pro data directly into QuickBooks for Mac or MoneyWorks 6. (At present, MoneyWorks 7 is not supported, but MarketCircle states that support is forthcoming.) What makes Billings a standout is integrated time billing and what are probably the most beautiful, customizable documents you will will ever see in a program of this type. The key here, though, is time billing. While almost every business accounting package you'll find offers a way to enter time billing information into time sheets, Billings Pro lets you track your time in the field, and create an invoice directly from the collected information. This may sound like a small deal, but it's integral to the way many people bill for services, and a feature missing from all of the other applications mentioned here.
While I do love Billings Pro, it's not perfect and requires you to discover the "Billings Pro workflow" before you can use it. In the Billings Pro world everything you do needs to be part of a project, so no matter what you're doing, you have to set up a project first and then add Working Slips to those projects and bill based on information collected in the slip. This isn't a huge problem, but may be an unnecessary step for some businesses.
QuickBooks Mac 2014
QuickBooks Mac 2014 got a full review in Macworld (; $250) last December... well, no surprise, there haven't been any changes.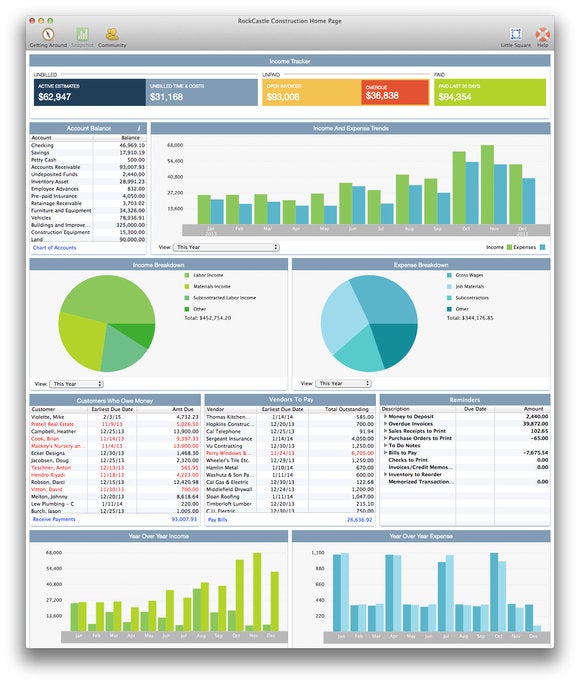 While it offers no cross platform capabilities, QuickBooks for Mac 2014 still offers excellent small business accounting tools.
Previous Page 1 2 3 4 Next Page