The complete guide to using emoji on your Mac, iPhone, and iPad
👍🇺🇸🚀
Japan?
Yeah, emoji are originally Japanese, and although they're now being more widely adopted—indeed, since 2010, the global Unicode Consortium has worked to integrate a subset into the Unicode standard, and added many more since to make the system more international—to western eyes there's still a slightly peculiar feel to the full emoji set. But hey, it's quite nice that after years of imposing our culture on the world, we're put in the position of finding ourselves a bit adrift in Japanese culture through the world of emoji!
Yeah, cute, but what on Earth does 🎏 mean, for example? Or 📛?
Well the first is koinobori, little streamers shaped like carp used to celebrate Children's Day in Japan, and the latter is a tulip-shaped name badge used in kindergartens. In Japan.

See? Credit: Skyseeker
Wait, what?
I know; if you're not Japanese, you might have little call to use these particular ones—at least, to use them to designate their original meanings. But this is language, man, and language is gloriously malleable. So, the legend of the three wise monkeys (see no evil, hear no evil, speak no evil) is originally Japanese, and you have emoji for 🙈, 🙉 and 🙊, but I sometimes use 🙈 to signify a kind of forehead-slapping "D'oh!", and 🙊 to signify a hand clapped to the mouth—"I can't believe I said that!"
And people understand that, do they?
Maybe, maybe not. But it's fun and playful, and even written language is susceptible to misinterpretation. Indeed, emoji can help add color and nuance to bare sentences which might help obviate this.
Okay, let me try: "You're such a nerd! 🤓😘" How'd I do?
Not bad, and the kiss suggests you're just being playful rather than actually insulting, which I hope is true, since apart from anything else "you" are an entirely fictional construct built by my own consciousness, and I would hope I'm not so self-hating as to actually insult myself in the middle of writing an innocuous guide to emoji for Macworld.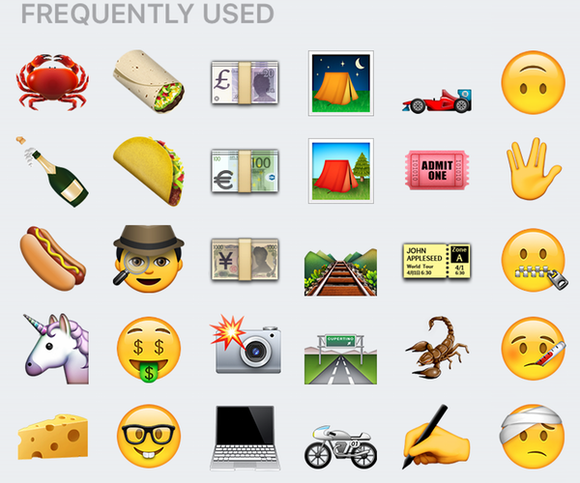 The newest batch of emoji was added in iOS 9.1, including the long-awaited taco, unicorn, and Live Long and Prosper emoji.
However! The 🤓 emoji is a brand-new one, introduced first with iOS 9.1, and so not everyone will be able to see it; some people reading this won't see it, even. Indeed, some people reading this won't see any emoji in this piece at all, since their system will be too old to display them; they'll see error characters instead.
That's crazy. So if I use an emoji in a text message or on Twitter, there's no guarantee people will see it?
Previous Page 1 2 3 4 Next Page