The complete guide to using emoji on your Mac, iPhone, and iPad
👍🇺🇸🚀
It's complicated. In general, most modern computers, smartphones and tablets will at least display _some_ emoji, though unless you're as geeky about it as me and can identify the characters that have been around for a long time and are so likely to be more widely supported, no, there usually isn't a guarantee that your emoji will be seen by other people. There are exceptions: Twitter and Facebook, for example, have systems in place so that emoji viewed through their official apps or on their websites _will_ display—using either the emoji native to the kind of device they're being viewed on or by replacing them on the fly with their own versions of the emoji character.
Lost again. "Their own versions of the emoji character"?
Yes, even a simple winking face emoji will look different on each platform, and that's because although the Unicode Consortium now controls the list of emoji, all that list really is is a text description of each one; it's up to Google to decide how to actually draw up that description on Android and Chrome OS, up to Apple how to for OS X and iOS, and so on. (And in this context, "Facebook," for example, is a platform in its own right.)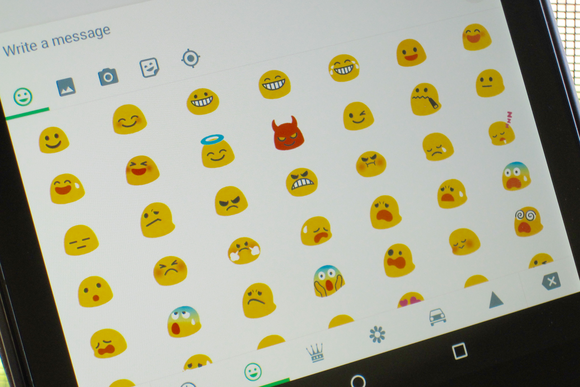 Android emoji are just weird-looking. Credit: Derek Walter
That seems fair enough. A winky face is a winky face is a winky face, right? 😉
Right. But sometimes the representation of an emoji veers in completely weird and unforeseeable directions. For example, our own Susie Ochs uses 💁 when chatting to suggest a saucy hair-flip, but technically that character is called "information desk person," and its equivalent on Android is weird, and looks nothing like a woman flicking her hair, which means the meaning can get totally lost.
One more wrinkle. With recent updates, some emoji support different versions to allow for a little welcome racial diversity. So, by default, 👦 shows up on modern Apple systems as a race-neutral golden yellow Lego-type person, but you can opt to switch it to 👦🏻, 👦🏼, 👦🏽, 👦🏾 or 👦🏿 by long-pressing on it. This is handled at a technical level by the computer actually typing 👦 plus a second character that defines the color, and on systems that support the skin color variants they just get understood as a single character—but on those that don't, you might see the emoji for a man plus a little colored square.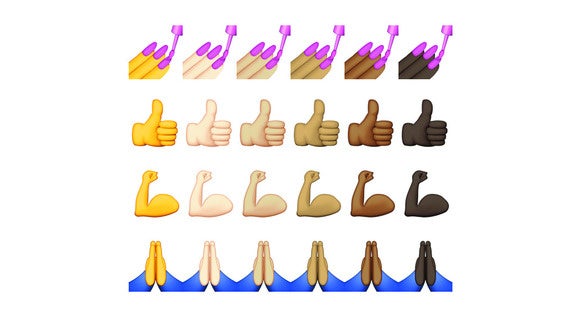 Emoji got more diverse in iOS 8.3 and OS X 10.10.3. Credit: Gizmodo
This all seems more trouble that it's worth; I give up! ¯\_(ツ)_/¯
Previous Page 1 2 3 4 Next Page