The complete guide to using iTunes with lossless audio
While you might not notice the difference in sound quality, the lossless format leaves you with an archival file that you can convert at any time in the future. You'll never need to rip those CDs again.


You can see that the AIFF file is the largest. The Apple Lossless file is smaller, and the "iTunes Plus" format rip, at 256kbps, is even smaller.
The AIFF file will always be 1411kbps; that's the bit rate of music on a CD. The Apple Lossless file's bit rate and size depend on the density and complexity of the music. And the AAC (or MP3) file will be at the bit rate you choose unless you opt for a true VBR (variable bit rate file), where the bit rate will be near a target bit rate. (Apple's iTunes Plus format is a sort-of-VBR.)
Note that it's generally not a good idea to use AIFF or WAV files in your iTunes library. Not only do they take up a lot of space, but tags—metadata you add to the files—aren't supported as well as with the other formats. While you can tag WAV and AIFF files in iTunes, not all of these tags remain in the files if you move from your iTunes library to another computer or device.
Why rip to lossless?
You have the option to rip your CDs to Apple Lossless format. You may also have some FLAC (Free Lossless Audio Codec) files you've downloaded; they're very common. But why use lossless files? What's the advantage?
As you've seen above, lossless files take up a lot more space. So if you have a large music collection, you'll need a bigger hard drive (or more than one). And lossless files sound exactly like CDs, so you'll have the best quality for your home listening. Also, if you rip to lossless, you'll have archival files, which you can later convert to any format without needing to re-rip your CDs.
However, if you're listening on the go—on an iPhone, with headphones, or streamed to a portable speaker—there's little advantage to using lossless files. You won't hear any difference in sound quality over the ambient background noise, and on headphones that are certainly not as good as those you use at home. And these files take up a lot of space on a device that has a limited amount of storage.
Fortunately, iTunes lets you have the best of both options. Connect your iOS device, select it, and then click on Summary. In the Options section, check Convert higher bit rate songs to, and choose a bit rate. I use 256kbps, but you can also choose 128 or 192. This setting tells iTunes to convert your lossless tracks on the fly when syncing to your iOS device.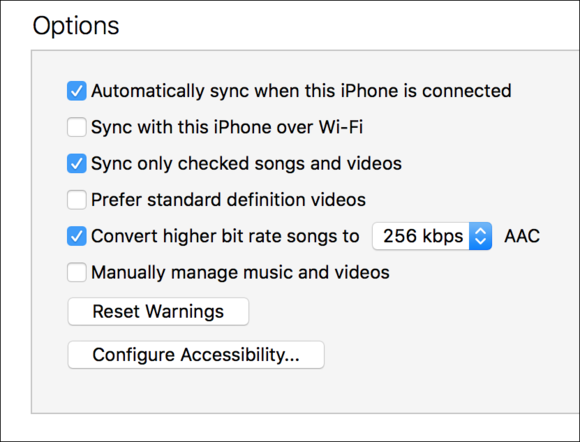 Have iTunes convert your lossless files on the fly when syncing to your iOS devices.