Top 10 business collaboration stories of 2016
The year 2016 was an especially busy one in the enterprise collaboration market. CIO.com shares its picks for the most significant collaboration stories of 2016.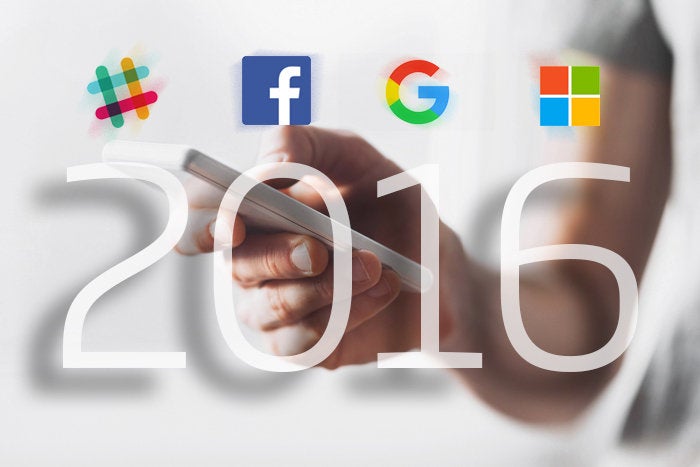 In 2016, a battle started to heat up in the enterprise collaboration market. The stalwarts of business, as well as consumer tech giants and a set of new entrants, were all in the mix. In this increasingly crowded market, the varying apps and other services targeted businesses from many different angles.
Here are our picks for the most significant collaboration developments of the past year.
1) Facebook at Work (finally) launches as 'Workplace'
Facebook already owns consumer social networking, and with its new Workplace service, it set sights on the enterprise. The offering is designed to feel familiar to Facebook users but also remain separate from the company's consumer platform. (For more details, read our prelaunch history of Workplace.)
Less than a month later, Microsoft announced Teams, a collaboration app that borrows heavily from Slack's design and user interface, in an effort to boost its Office 365 suite with a comparable offering.
2) Microsoft Teams targets Slack in crowded collaboration market
Microsoft didn't rush its Teams collaboration app for enterprise to market by any means, but the service's success will likely have less to do with timing and more to do with its 85 million Office 365 customers.
As Microsoft expanded its suite of productivity apps, Google also repositioned its cloud services and organized a suite of its own business apps, called G Suite.
3) Google rebrands cloud services 'Google Cloud' and 'G Suite'
In late September, Google said a billion people now actively use its public cloud. To celebrate the milestone, the company reorganized its cloud efforts under the name "Google Cloud" and rebranded Google Apps as "G Suite."
As the largest companies in technology formulated new strategies for enterprise collaboration, Microsoft worked behind the scenes with LinkedIn to improve workplace productivity by integrating its soon-to-be-acquired asset in professional development.
4) Business collaboration a hidden motivation in Microsoft, LinkedIn deal
Enterprise collaboration has never been a strong suit for LinkedIn, but that could change if Microsoft has its way. A combined LinkedIn and Microsoft could help professionals both find jobs and improve workplace productivity.
Following Microsoft's acquisition of LinkedIn, we dug into the company's growing number of collaboration offerings to provide some clarity on the various apps.
5) Making sense of Microsoft's messy collaboration strategy
In 2016, Microsoft expanded its Office 365 suite with more apps for enterprise collaboration, but it's unclear if the-more-the-merrier approach will prevail, or if consolidation is inevitable.
During the annual CIO 100 event, CIO.com sat down with GE's CIO Jim Fowler to get his take on the various strategies at play and which apps work best for one of the world's largest enterprises.