TV Maps review: Use the Apple TV to surf the world from your couch
Instead of squinting at a map on your phone, why not take a look on a big screen you already own.
Instead of squinting at a map on your phone, why not take a look on a big screen you already own—an HDTV set via your Apple TV? The appropriately-named Arno Appenzeller—really his name—used the MapKit part of tvOS to create an interactive app called TV Maps. At $2, it's a treat.
Because it relies on MapKit for mapping, rendering, and directions, TV Maps is also subject to some artifacts of this implementation, which include noticeable delays in loading map segments, and an odd stutter during 3D rotation in a special "flyover" mode. But tvOS handles maps generally fine, and as it matures, TV Maps will get "better" as a result.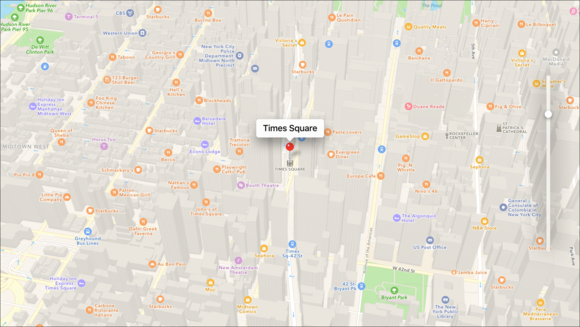 Times Square shows to great advantage with labels attached.
TV Maps gives access to the street map, satellite, and hybrid views you're used in Maps for iOS and in OS X, as well as 3D views, location finding, and directions. It launches in street view and you can slide upwards along the right edge of the Siri Remote's touch surface to zoom in and downwards to zoom out. (The app takes such strong advantage of the Siri Remote's touch portion, you'll find it difficult to impossible in version 1.1 to use with the Remote app.)
It feels fairly intuitive to swipe around to move the map in various directions, and then slide to zoom in and out. It's not quite as comfortable as using an iPhone or iPad, of course, but you don't need to teach yourself a new set of conventions. Maps load reasonably fast, but it appears that tvOS isn't optimized to load and cache quite as well as iOS. With the fourth-generation Apple TV's relatively zippy processor, and with my model connected to our home's gigabit Internet connection, TV Maps often had empty "holodeck-style" grids that I waited for a second or a few to populate with map imagery. This was much slower than similar-resolution performance on both a new iPhone 6s (at a lower overall display resolution) and an older Retina iPad that shows many more pixels than a 1080p display.
Hold down the touch button, and you can access directions and locations, plus settings and a neat, slightly hidden feature. Tap the entry field for a location or tap the direction icon to enter a starting and ending spot.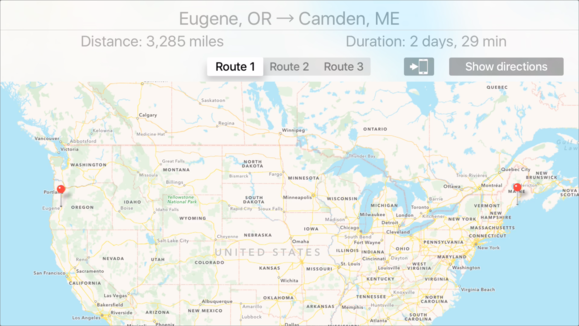 Directions let you see the scope of a path and view alternatives.
While a 1080p HDTV has less resolution than nearly any modern desktop display, it's still pretty nifty to see the detail filling the larger area of an HDTV. It's especially nice if you're trying to show multiple people a route, or want to show a satellite or 3D image view to your family.