Wacom Bamboo Slate review: Smartpad marries traditional note-taking to online output
Clipboard style smartpad bridges the gap between handwriting and keyboarding, but clunky software tarnishes the results.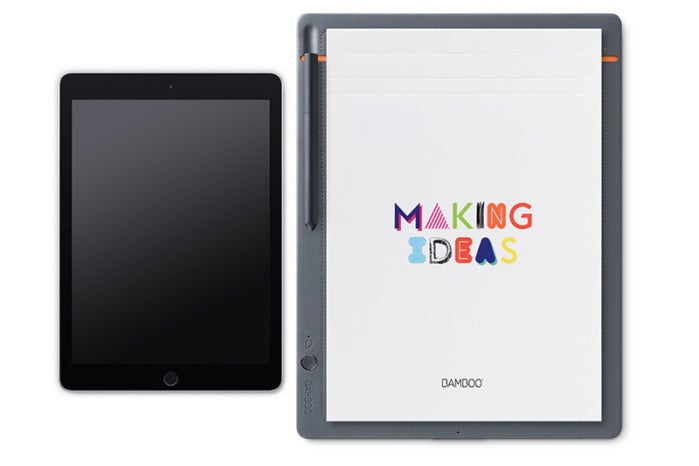 The concept is simple: If you like to take notes by hand—with pen and paper—and you're not above a few diagrams and doodles along the way, Wacom's Bamboo Slate ($130 and $150 on Amazon) smartpad might be the most optimal way to convert your notes from analog to digital.
The Slate is an athletic-coach-style clipboard note-taker, while Bamboo Folio ($200 on Amazon), a concurrently released variation, works similarly albeit with a different form factor that features an integrated cover. Bamboo Slate's companion pen, with its traditional ink tip that is not a stylus, lets you jot down notes, upload them to the cloud, and edit and share them in various formats from your iOS devices.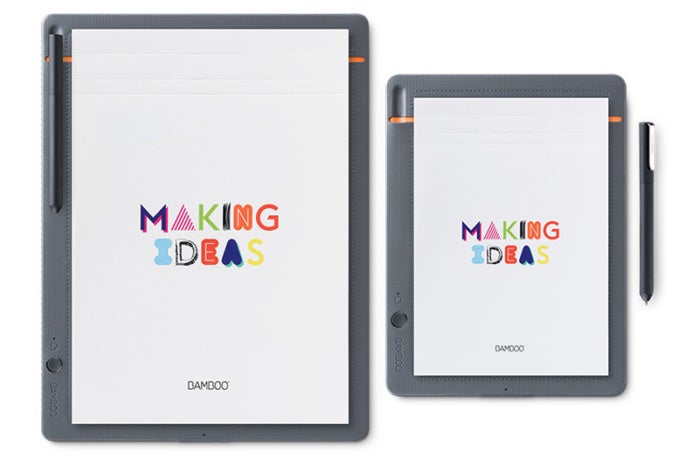 Constructed of medium gray polyurethane on the front and matching nylon fabric on the back, Bamboo Slate's larger letter format version (A4), at 10 x 12.9 inches, is hardly light or petite. Its blandly stylish appearance blends unobtrusively with other office tools or school supplies you may be toting around. At 1.6 pounds, comparable to an iPad Pro, it feels weighty. For those who prefer something more delicate, a half-letter size (A5) at 9.8 x 7.3 inches at is also available. I tested the larger version for this review.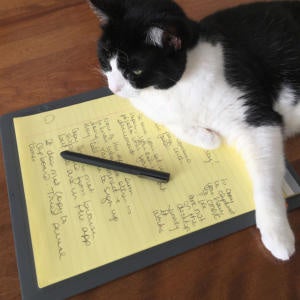 Large clipboard style smartpad lets you take lots of notes (cat not included).
The Slate comes with a full pad of paper, but when you're done with that you can easily use any pad you want. No special paper is needed. Any markings on the page can be instantly converted to digital format and uploaded via your iOS device with the press of a button. Slate makes digital transfer easy because this button is the only hardware control on the device. You can even store pages and sync them later.
Battery life was fairly robust: The Slate can hold a single charge over several days of intermittent use, with juice to spare.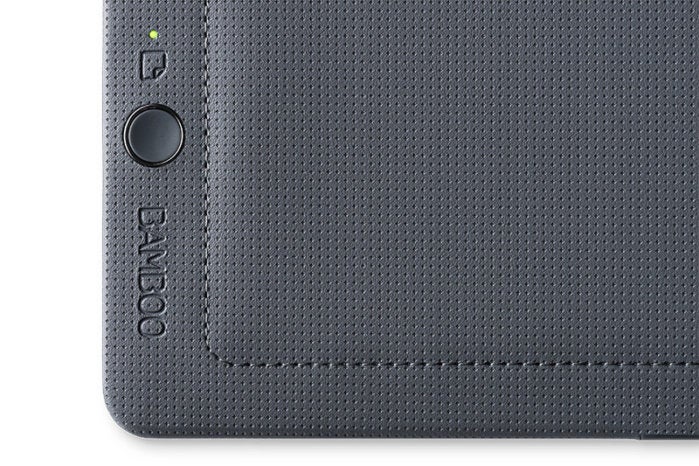 Wacom Pen
The Wacom Pen is simple and quite nice. It looks like a regular ballpoint pen — the kind where you twist the end to expose the writing tip. I'm especially fond of the matte black finish, which makes for a pleasant grip. The clip is a good idea because you can attach it directly to the Slate so as not to lose track of it among your other pens. Ink cartridges can be replaced and an extra one comes in the box. The pen itself has 1,024 levels of pressure.