Wacom Bamboo Slate review: Smartpad marries traditional note-taking to online output
Clipboard style smartpad bridges the gap between handwriting and keyboarding, but clunky software tarnishes the results.

Inkspace app
Wacom's Inkspace app connects the Slate to your Bluetooth iOS or Android mobile devices, syncing your handwriting and drawings to re-use or share. Inkspace lets you edit your notes and sketches, as well as combine or split pages of notes, and lets you draw on existing notes. You can export files in JPG, PNG, PDF, and WILL (Wacom Ink Layer Language) file formats directly to the Wacom cloud or other cloud services like Dropbox, Evernote, or OneNote.

Each button press sends content to its own page, but you can combine or split pages.
Bamboo Slate includes the free Inkspace Basic app, 5GB of storage on Wacom's cloud for some 6,000 pages of notes, the ability to sync content across devices, and access to your content on the Inkspace web portal.
The Basic app serves as a bare bones introduction to a more fully featured Inkspace Plus version, immediately available for a three-month free trial subscription. In addition to all features of Inkspace Basic, the Plus app offers enhancements like converting your handwriting to rich text, a search feature, export to scalable vector file format (SVG) for use in drawing programs, collaboration abilities, and 50GB of storage for some 60,000 pages of notes. A live mode lets you watch the screen as you write or draw. I found those features worked quickly and as advertised. The downside is that for the useful features that make the hardware a good investment, the premium version of the app costs a pricey $3 per month after the trial ends. Access to both versions of the app also requires a Wacom ID.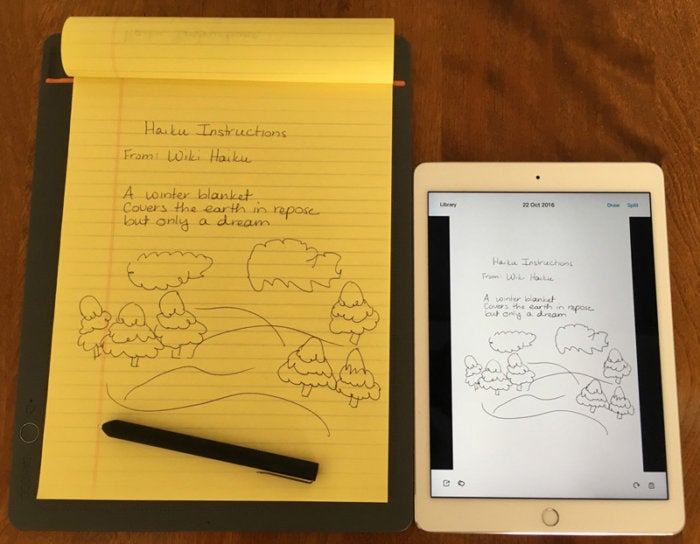 From page to Inkspace.
Despite the reliable hardware functionality, I found the software package to be the weakest and most frustrating aspect of the Slate experience: The Basic app is too limited, the Plus app is too expensive, and both are unintuitive.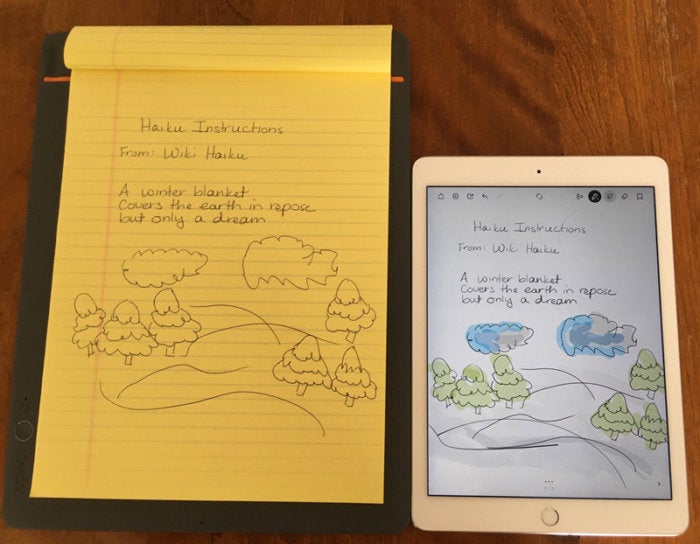 Coloring your note with Bamboo Paper.
Getting started was a bit glitchy. The pairing procedure between the Slate and your mobile device must be performed accurately and in the exact sequence prescribed. You cannot pair multiple devices with the Slate at the same time, so in testing features on the iPad, I was automatically signed off the iPhone Inkspace app. To use the collaboration features, I had to sign in a second time on my device, even though I was already signed into the app and was syncing documents with it.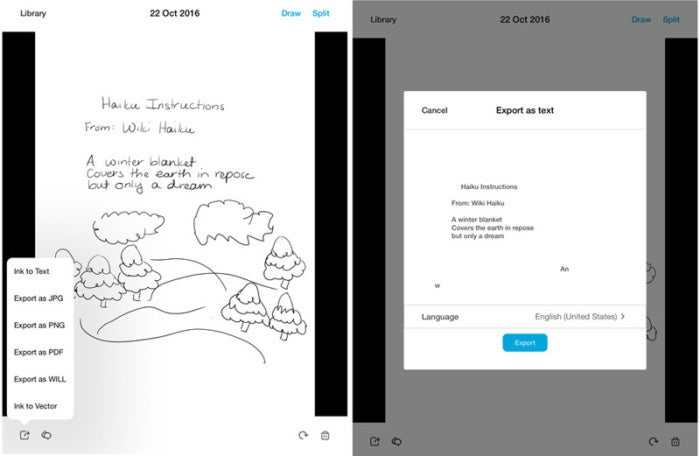 Export to text was fairly accurate.