Wacom Bamboo Slate review: Smartpad marries traditional note-taking to online output
Clipboard style smartpad bridges the gap between handwriting and keyboarding, but clunky software tarnishes the results.
Each text upload goes on its own page, so even if you continue writing on the same piece of paper, the last upload will only register content that had not been previously uploaded, rather than showing everything currently on the page. You can combine and split pages using Inkspace, however.
Post-sync editing options are limited, too, and adding colors or highlights to your notes requires Bamboo Paper, a different Wacom app. Linking up your notes with Bamboo Paper—which is available only on the iPad—lets you add color and other elements like Photos to your output. To use the Bamboo Paper app with your Bamboo Slate, you must first export your work as a WILL file and open it in Paper. Considering the process already involves using one app to sync files, adding another app to the mix feels clunky.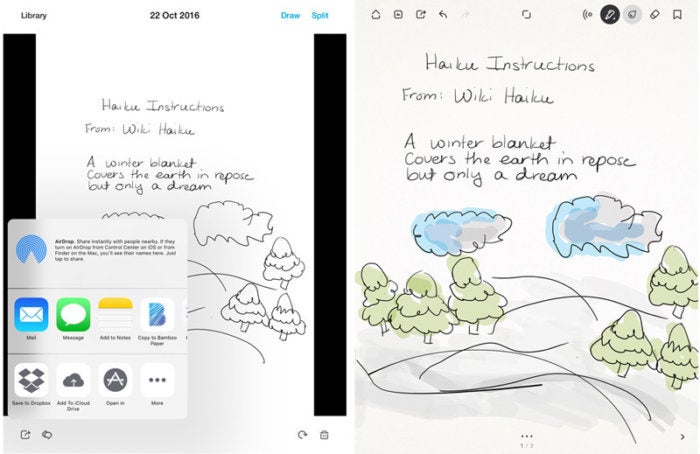 Transferring your document to Bamboo Paper.
Bottom line
Wacom's Bamboo Slate smartpad gives everyone from students to office workers the ability to seamlessly switch back and forth between handwritten note-taking and typing into a device, making notes potentially more effective and personal. Despite the admirable functionality of the Slate and Pen, the interaction between the hardware and the software felt awkward, especially separating out basic and premium versions, and then forcing a second app for color work and additional editing. The software component needs to be more elegant, streamlined, and intuitive. The free version should offer more features.
Previous Page 1 2 3