What 2017 has in store for cybersecurity
Donald Trump's administration seems to be the biggest concern.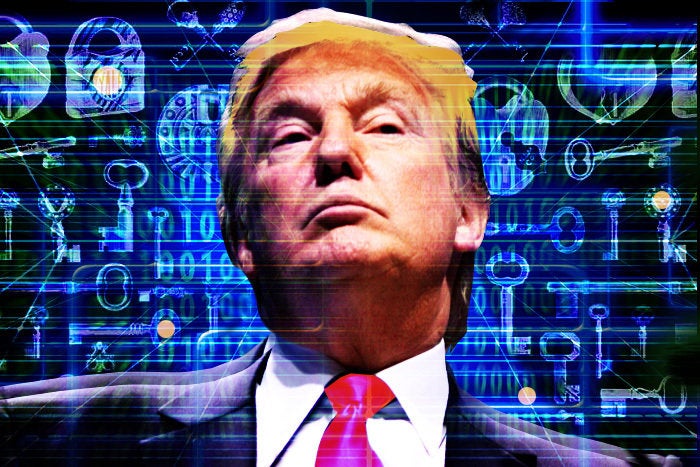 There is much uncertainty surrounding the security industry for 2017, and according to experts in the field, a lot of the trepidation is directly connected to what the nation's next president will do.
Here's what security vendors and analysts are predicting for the year ahead.
John B Wood, CEO of Telos Corporation, cites a need for cooperation between the government and the private sector. President-elect Donald Trump took a break from his "thank you" tour to meet with tech executives to smooth over a contentious time between the two sides during his campaign.
"President-elect Trump has been vocal about the need for a stronger and more aggressive cyber security posture, and I'm confident that he'll work with leading members of Congress. Many non-political cyber experts throughout the government, various agency CISOs and [Federal Chief Information Security Officer] General Touhill will also be great resources to further refine cyber security policies to protect U.S. interests in the face of constantly changing threats," Wood said.
He also noted the renewed focus on U.S. Cyber Command. The President-elect has promised to eliminate the threat of defense sequestration and to spend more on the military. "This needs to include working to roll back the budget caps for defense spending and providing additional resources for cyber security, including more money for U.S. Cyber Command, which I believe is grossly underfunded," Wood added.
Speaking of funding, Wood does not believe that a change of administration will automatically lead to a change in regulatory policy.
"Although there will certainly be a big push by the Trump administration to roll back or modify overly burdensome regulations, I don't see this affecting cybersecurity regulations, like the NIST Cyber Security Framework that has been developed in consultation with the private sector," he commented.
Reuven Harrison, CTO and co-founder of Tufin, a provider of network security policy orchestration solutions for enterprise cybersecurity, said the thought of a Trump administration inevitably failing to uphold regulations will keep IT departments tossing and turning at night. "If Trump implements his deregulation promises, and penalties for non-compliance with industry-wide security regulations are relaxed, security teams will need to be self-disciplined to maintain a high level of security by turning to outside resources for security best practices," he said.
Carson Sweet, co-founder and CTO at CloudPassage, said privacy will take center stage over security.
"Trump's administration will create a fundamental shift in concerns as it pertains to security. There's a new sheriff in town, and many posit that he has less regard for privacy concerns than the current administration. Case in point, Trump supported the FBI in its battle with Apple over iPhone privacy and security," Sweet stated. "If this new administration demonstrates in their policies a value for law enforcement and intelligence access over citizens' privacy, they'll double or triple down on the government's right to inspect data. The impact of such a reality would extend to the use of online services, cloud providers, even personal computing devices and IoT."