What Apple's new Touch Bar means for Mac users
Apple this week introduced new MacBook Pros with 'Touch Bars' that hint at Apple's future strategy for touch tech in macOS. However, the price of the refreshed laptops might put them out of reach for many enterprises.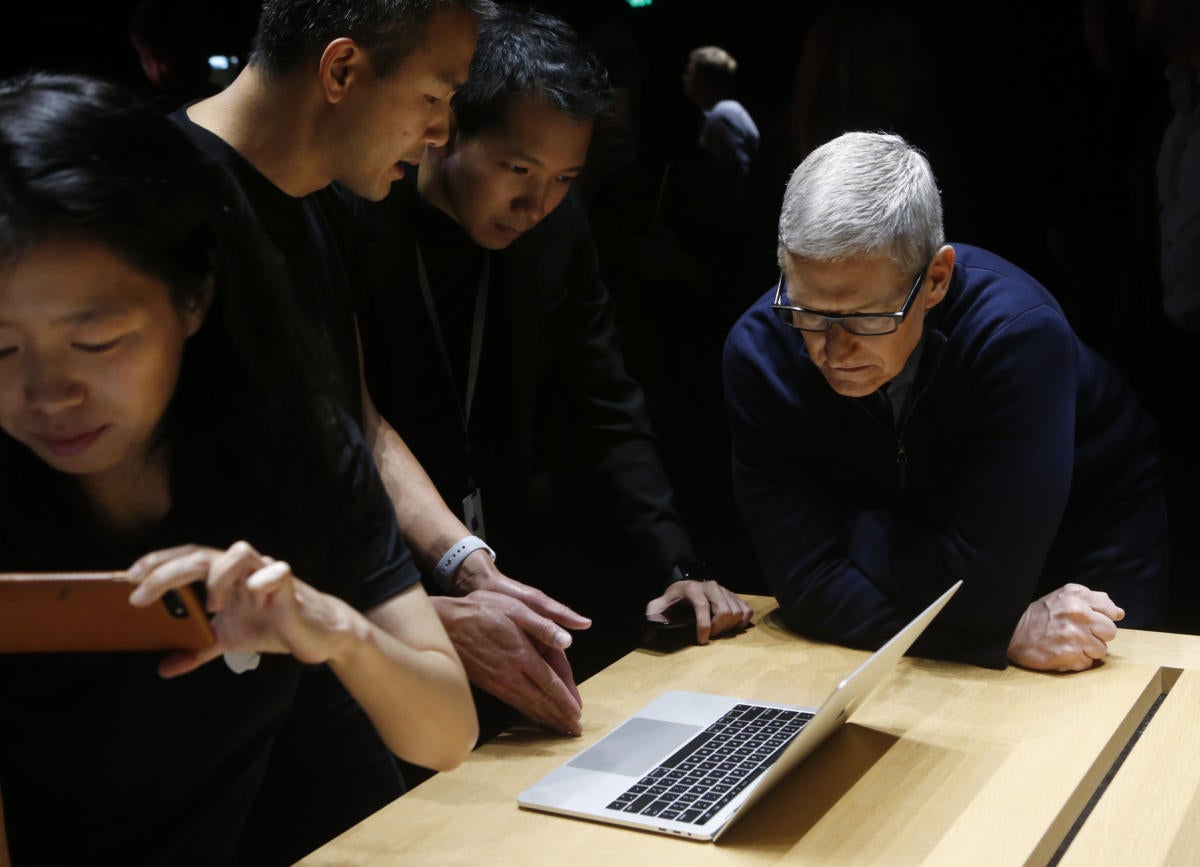 Apple CEO Tim Cook (R) views the new MacBook Pro in the demo room after an Apple media event in Cupertino, Calif., on Oct. 27, 2016.
Patrick Moorhead, president and principal analyst at Moor Insights & Strategy, says the Touch Bar suggests that Apple plans to build more touch capabilities into macOS. "Over time I can see [Apple] replacing the entire keyboard with a touch display." However, Apple won't likely introduce a touch-enabled monitor to MacBooks because it would "violate Apple's workflow vision where everything is contiguous and uninterrupted," he says.
"Apple is vehement that touchscreens do not make sense on a notebook and it would ruin their addiction to thinness in their devices to add it to the notebook displays," says Baker, who is also less than enthused about the possibility of an all-touch keyboard. The majority of people prefer mechanical keyboards to touch input because they want some degree of travel and tactile feedback, he says. "I think a pure touch solution for a keyboard would be rejected by large parts of the market."
High price of MacBook Pros may limit enterprise adoption
The new MacBook Pros with Touch Bar aren't cheap — prices start at $1,800 for the 13-inch model and $2,400 for the 15-inch laptop — and that could affect enterprise adoption. Alexander thinks many organizations will either opt for more affordable MacBooks, a product line that IHS expects Apple to refresh in 2017, or go with new 13-inch MacBook Pros without Touch Bars, which start at $1,500.
Due to their high prices, some enterprises will relegate them to specific subsets of their users, according to Baker says. "Broad adoption in the enterprise is unlikely as a result," he says. Alexander agrees and suggests business adoption of the higher-end MacBook Pros will likely occur in niche environments where the enhanced capabilities can be put to specific uses.
With the exception of Touch ID, which Apple coupled with the Touch Bar to let users unlock their computers with a fingerprint, the MacBook Pro doesn't have any new must-have features for enterprises, according to Moorhead.
Many Apple watchers, including Moorhead, also hope Apple will soon refresh its desktop computers. "There is absolutely demand for a stationary device if Apple wants to meet all the needs of the enterprise," he says. IHS says it hasn't seen any supply chain activity that indicates new desktop Macs will be released in the near term, but Alexander does expect an eventual update. Apple's path forward on desktop Macs could simply mirror the demand it sees for those computers, which has been on the decline for many years, she says.