What OneNote's Math and Replay features say about the spotty state of Windows Ink
Windows Ink is a great idea struggling with the realities of handwriting recognition and data wrangling.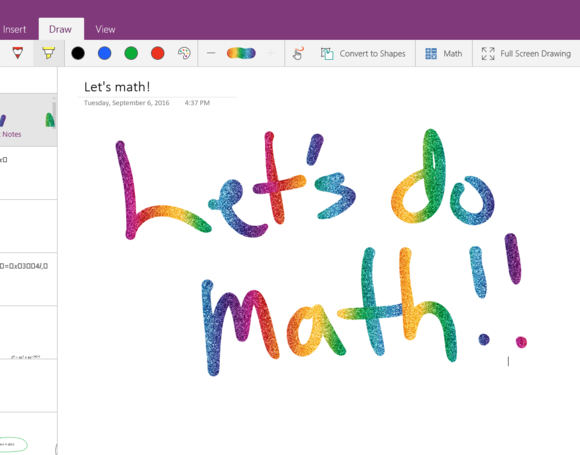 One of the most significant features of Windows 10's Anniversary Update was the addition of pen computing, known as Windows Ink, which we criticized as falling short of the average consumer's needs. We don't know whether any new inking features will be announced at Microsoft's Windows event on Wednesday (or the event that follows on November 2). Recently, however, we took a deeper dive into the capabilities, when we tried the new Math and Replay features within Windows 10's OneNote UWP app.
Math translates and solves inked equations, while Replay records your series of ink strokes and can play them back. On paper, both sound like terrific ideas. But the devil's in the details, and the challenges of both features show how Windows Ink is struggling with the realities of handwriting recognition and data wrangling.
OneNote Math: It doesn't always add up
As part of Microsoft's August updates for Office 365 subscribers, OneNote gained a new superpower: equation calculation. Unfortunately, poor inking recognition is its Kryptonite, rendering it virtually unusable with a pen.
When it works, OneNote's new Math feature translates your electronic ink into an equation, and then solves it for you—and even shows its work. It resembles mathematics powerhouse Wolfram Alpha, which, like Microsoft, charges money for this capability. Unfortunately, the Math feature hasn't yet appeared on OneNote 2016, where other, useful features like real-time audio annotations reside.

To use OneNote Math, you must ink the equation, lasso it, then click the Math button.
You'll find the new Math feature in the Draw tab's toolbar. You ink an equation, select it using the lasso tool on the far left of the toolbar, and click the Math button. OneNote then interprets your ink and provides you with a list of options to solve the equation.
Unfortunately, the feature didn't quite live up to my expectations. Sure, it was able to calculate my equations.You can see in the screenshot that it does a nifty job of displaying solutions and showing the work.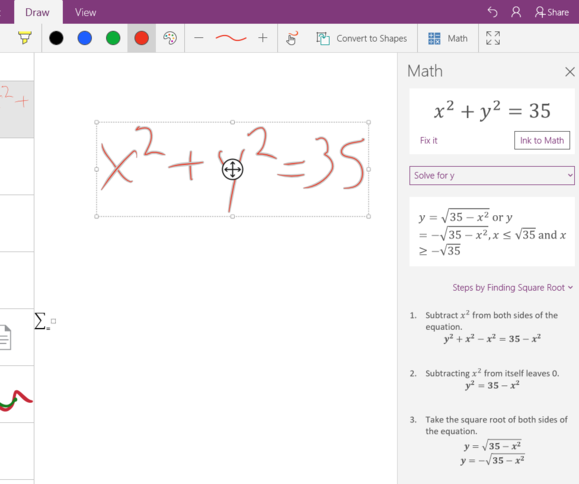 When OneNote's math function works, it's pretty neat.
But despite its aptitude with a single equation, as shown above, OneNote appeared to be incapable of solving a series of linear equations (say, two equations with two variables). The app also doesn't plot any graphs in this version of the software, and you won't find many of the higher mathematical functions a site like Wolfram Alpha supports. Or so it seems.