What OneNote's Math and Replay features say about the spotty state of Windows Ink
Windows Ink is a great idea struggling with the realities of handwriting recognition and data wrangling.
The other thing is, OneNote is extremely finicky about how it interprets your digital ink. Each time you enter an equation, you need to ink it, circle it, and pray. Write the number '4' in the open-top style, as I do, and Math may not interpret it correctly. Ditto if you place a '+' sign out of alignment, or if your cotangent ("cot") abbreviation isn't inked perfectly.
I had a tough time getting Math to understand the notation for an integral, at least the way I inked it. I also ran into an occasional bug where the box that displays the interpreted ink was partially obscured. That left me guessing whether my equation had actually been interpreted correctly.
Poor ink recognition is an issue Microsoft must solve to make OneNote Math a winner.
Also, inking with the stylus produced worse results on my Surface Book than using my finger. Maybe it was because I inked larger symbols using my finger, but the difference was baffling. Another limitation: The lasso tool won't automatically extend beyond the limits of the screen to the left and right, so inked equations have to fit within those parameters.
If you ink an equation incorrectly (or if OneNote misinterprets your ink) you have a chance to go back and select Fix It. That allows you to lasso a specific character or characters and do a rewrite. You then have to re-lasso the entire equation and resubmit it to be solved.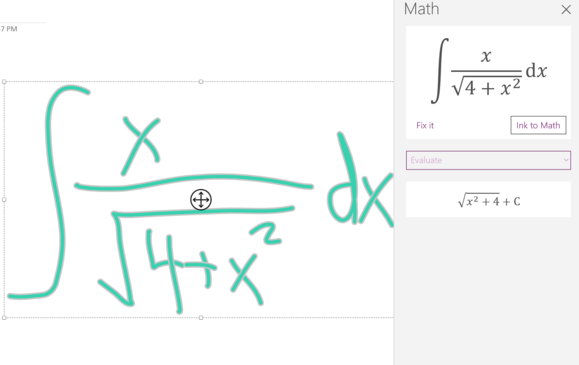 OneNote won't always show its work.
If the formula is interpreted correctly, OneNote works its magic, providing a drop-down menu with different solution options, such as to differentiate for x, or integrate it. In most cases OneNote will show the steps it took to arrive at the answer, but it seemed to me that the more complex the problem, the less likely it was to do so.
The Ink to Math feature takes your inked equation and replaces it with text characters within the main window. Unfortunately, those characters aren't editable. I suppose the eventual purpose of Ink to Math is to translate your ink into something that can be used in a more professional document. Right now, however, it's just frustrating.
OneNote Math's other problem: Competition
OneNote's Math features also look underwhelming when you consider the existing competition. Here are other alternatives to consider:
1. Nebo, could do a better job of interpreting your ink into mathematical equations, even though its mathematical range may be more limited.
2. Wolfram, of Mathematica fame (that professional-grade app begins at $250), offers the WolframAlpha Windows 10 app for $2.99 per month. It includes step-by-step solutions, but without some of the richer features offered by the formal Pro subscription ($5.49 per month).
Previous Page 1 2 3 4 5 Next Page