What OneNote's Math and Replay features say about the spotty state of Windows Ink
Windows Ink is a great idea struggling with the realities of handwriting recognition and data wrangling.
Unfortunately, OneNote's Replay suffers from the artificial feature split between Microsoft's productivity apps. Replay—as well as the new Math feature we evaluated—appear in the OneNote UWP app for Windows 10. That app is a subset of the more full-featured app, OneNote 2016, which has neither the Replay or the Math features and may never get them. You'll also need to subscribe to Office 365 to receive Replay, via a Store app update.
This Surface Hub is shown using the Sketchpad app that's now in Windows Ink, but it can run the OneNote UWP app, and it probably should.
How Replay works
Replay hides within the View tab in OneNote. Keep in mind that the OneNote UWP app requires a touchscreen, if not a stylus—you can't just begin drawing lines with a mouse. In practice, the app works well for individuals on a tablet like the Surface Book or Surface Pro 4. But while I didn't have a Surface Hub to try with it, I can see how it would really shine on a large collaborative whiteboard.
Once you begin drawing within OneNote's Replay, the app caches each stroke of your pen and each line of text. Changes, erasures, or adjustments aren't recorded, so if you freehand a circle and ask OneNote to convert it to a shape, only the finished circle is recorded. Ditto for asking OneNote to interpret ink as mathematical equations. Clicking the Replay button plays back the ink (and text) at about a stroke (or line) per half-second or so, like a stop-motion movie. And that's where OneNote's inking team needs to begin making additional improvements.
First, there's the issue of time constraints: Replay means watching your inkstrokes through from the beginning until the end, though you can use the scrubbing feature to accelerate the process. It took several attempts for the scrubbing feature to display properly, however. During the replay process, you can pause and add ink, and that ink will remain when the replay completes.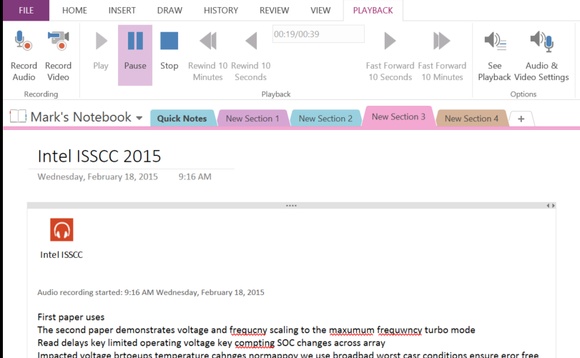 As of right now, Replay hasn't been integrated with the more powerful OneNote 2016—whose existing audio recording and syncing feature might match up well with the new Replay feature.
Second, there's the issue of irrevocable loss. Replay only stores ink that's added, while notes that you erase disappear permanently. That process of elimination runs counter to the way we often generate ideas—by adding, subtracting, and trying out new things. Users who try to keep everything by erasing nothing risk cluttering up the notebook.
Maybe there's room for a compromise: greater control over what ink is saved, and better still, the ability to go back and resurface ideas that were tossed out. This happens in real life: Imagine you planned out a strategic direction for next year. Then your budget was cut. Then your division was merged with a more profitable one. All of this would require re-adjustments to the original plan, but not necessarily a fresh start—like "forking" software, where you copy an existing code base, then head in a separate, parallel direction.
Previous Page 1 2 3 4 5 Next Page