Why fitness apps have been slow to adopt watchOS 2
Few running apps are taking advantage of watchOS 2 yet, but they should.
The Apple Watch's health and fitness features are among its biggest selling points. Many people have said the watch's activity-tracking capabilities have helped them lose weight or become more active. In one instance, the watch's heart rate sensor actually saved a life. I use the watch's built-in Workout app to track my morning runs, because it's easier to use and more responsive than any of the third-party running apps for watchOS. But I was hopeful that those apps would improve dramatically with watchOS 2, which lets apps run natively on the watch and tap directly into its sensors.
But that's not the case, at least not yet. I revisited the running apps I tested when the watch launched back in May to see if watchOS 2, which was released to developers in June and to the public in September, made a significant difference in the way they track workouts. Two of the apps, Nike+ Running and MapMyRun, haven't been updated for watchOS 2 yet and feel incredibly sluggish compared to Runtastic and Runkeeper, both of which have been updated.
Better, faster, stronger
Runkeeper is now leading the pack of Apple Watch running apps, because it's the only one (aside from the native Workout app) that will track your run without your phone nearby. Runtastic, which also runs natively on the watch and can track your heart rate, became unusable when I left my phone at home. The sad error message on my wrist read, "Your iPhone is not reachable, please connect the watch to your iPhone to start an activity." When you take your phone along, Runtastic taps the watch's sensors to show your heart rate while running, but unless you upgrade to Runtastic Pro, the app won't store that data for you to look at later. Runtastic was my favorite third-party running app for the watch when it launched, but Runkeeper now tops the list.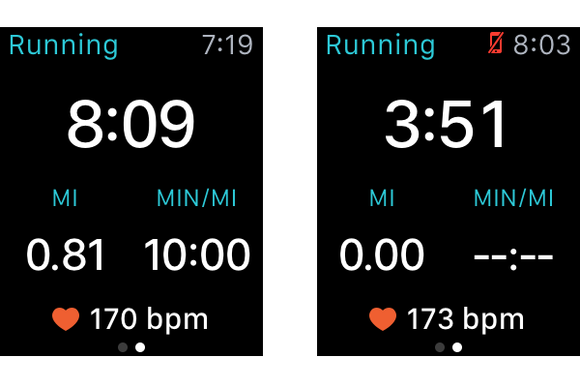 Runkeeper tracks your runs, including your heart rate, with or without your iPhone nearby.
Runkeeper loads quickly now that it runs directly from the watch itself instead of loading data from my phone, though it's still not quite as speedy as the native Workout app, which doesn't even pause when I lift my wrist to check my pace or my heart rate. Runtastic, on the other hand, is a little buggy; it lagged and often got stuck on a screen that asked me whether I wanted to return to my activity or end my workout. (If I have to tap the screen to view my stats every time I lift my wrist, that's a failure.)