Windows 8.1 apps: New additions and crucial updates
While many of Windows 8.1's major changes focus on the user interface, ultimately it all comes down to the apps.
While many of Windows 8.1's major changes focus on the user interface, ultimately it all comes down to the apps.
After all, the modern-style side of Windows 8 is supposed to be all about getting out of the way and letting you enjoy those big-screen, touch-friendly applications. In Windows 8.1 Preview, Microsoft has done a lot of work on its existing applications, and it's also come up with some new apps to help fill the gaps in the Windows Store catalog.
We've already provided an overview of these apps in our hands on with Windows 8.1, but now let's take a closer look at what's new and what's different:
Alarm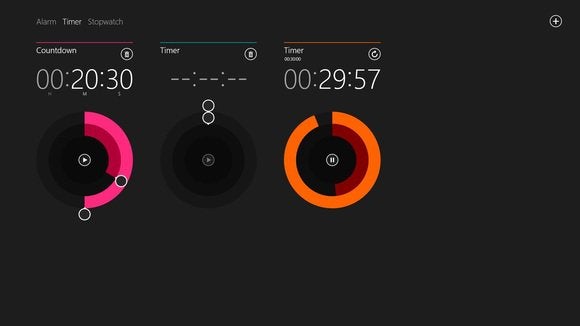 The new Alarm app is a helpful addition if you want to keep a Windows 8 tablet by your bedside, but in its current state it seems a bit sparse, not unlike the first generation of Windows 8 apps.
All the basic things you'd expect from an alarm app are intact, including a timer and a stopwatch, and the ability to set an alarm to repeat any given day of the week. The interface is slick, and the circular dial for setting times is cute. It'd be nice to see some more advanced functions, such as volume fade-in, wake to music, and a dimmer for using the app as a nighttime clock.
Calculator
In Windows 8.1, Microsoft has gone above and beyond the basic desktop calculator with this new modern-style app. The basic math functions are still there, but users can also switch to a scientific calculator. With the unit converter, users can calculate volume, length, weight, temperature, energy, area, speed, time, power, and data.
Although it isn't the most exotic app around, this might be the one modern-style function that desktop users might fall in love with. It's especially useful when snapped side-by-side with the desktop, allowing you to calculate without messing around with individual window sizes.
Sound Recorder
Just like the desktop Sound Recorder app, the new modern-style version is dead-simple. Just hit the microphone button and start recording. You can trim down an audio file, rename it, and delete it, but that's it.
Camera
If you enjoy taking photos with tablets, you'll find lots of useful new features in the Windows 8.1 camera app. The interface is now a little less confusing, with quick-camera and video-capture buttons on the right side of the screen. The app menu includes a "camera roll" button, exposure settings, and the timer. Camera options, including video stabilization and aspect ratio, have been moved to the Settings section on the charm bar.