Wunderlist 3 for iOS and OS X shines at delegation
Detail-view clunkiness aside, Wunderlist is one of the best, simplest tools for team collaboration.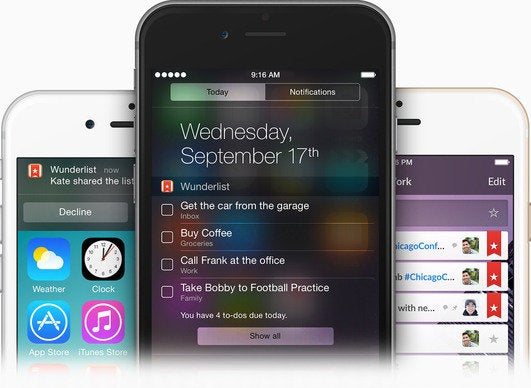 To-do list apps have stiff competition, from the supremely sophisticated OmniFocus to the simple yet elegant Clear. But none seems to be as wildly popular as Wunderkinder's Wunderlist (available for Mac and iOS), which even has Ira Glass singing its praises as his tool of choice.
Once you sign up for a free account, Wunderlist has a full-featured web version, plus native apps for just about every platform on the planet (I'm looking at you, Windows 7). The free version will likely meet the needs of most users, limiting you to 25 assignees, 25 subtasks, 5MB attachments to your tasks, and 20 backgrounds. Upgrading to Pro for $5 per month or $50 per year gets you unlimited assignees, subtasks, and attachment size, and up to 30 backgrounds. A Business account lets you add extra seats and gives you more robust tools for managing your group.
At its most basic, Wunderlist is a list manager, for anything from must-see movies to grocery lists. How you create, update, and manage your lists varies insignificantly from app to app, but the beauty is just how immediately any changes you make are pushed to all your other devices. No matter whether you're changing Wunderlist's background on your iOS device or adding a note to an item on your Mac, synchronization is satisfyingly snappy.
Wunderlist for Mac
Opening the Mac app reveals a two-column interface with a sidebar on your left containing a list of tasks and a to-do list on the right displaying items associated with any task you select. Wunderlist includes several default task lists, all of which can be configured using the app's preferences, including an Inbox, Assigned to Me, Today, Week, All, and Completed. Task lists act as a way to broadly organize your tasks into major and minor headings. Each task list contains to-do items, and each to-do item can contain a series of associated subtasks. So, for example, if you create a task list called Weekly Homework it could contain tasks for Trigonometry, Spanish, World History, Physics, and Chorus and each of those to-do items can have subtasks for specific assignments.
The only requirement for creating a new list is that it needs a name, but each list has other options, including adding users, assigning responsibility for a task to a specific user, and silencing notifications from the list for anything other than tasks assigned to you.
Once you create a list you can publish it to the Web, invite other users to view it, set due dates, turn on reminders, create subtasks, add users, and external files. Anyone you add to a list must have a Wunderlist account and accept your invitation to work with a list or be available for assigned tasks. You view and change this information using a to-do item's detail view, one of Wunderlist's most powerful features.